Houston Texans draft CB Lonnie Johnson, OT Max Sharping in 2nd round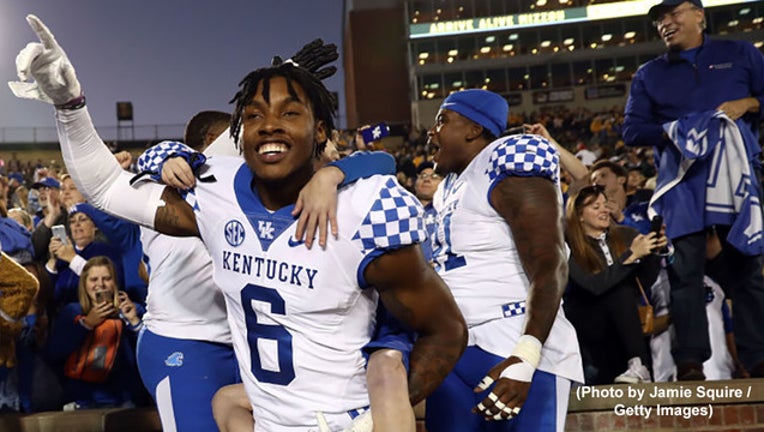 article
The Houston Texans selected two back-to-back second round picks during the NFL Draft on Friday.
Texans Pro Bowl wide receiver DeAndre Hopkins announced both of the draft picks. 
The team drafted cornerback Lonnie Johnson from the University of Kentucky with the 54th pick immediately followed by the selection of offensive tackle Max Scharping from Northern Illinois University, the 55th pick.
"Basically because I'm lucky," said Johnson in a conference call with the media, referring to why his nickname is 'Lotto.' "Hey, I'm lucky to make it out of Gary (Indiana). I'm lucky to be in this position. I'm lucky to get drafted. I'm lucky."
"It's hard coming out of Gary (Indiana)," added Johnson. "I broke down because I know how hard it is. I know that I'm not done yet. I'm at a loss for words. I almost gave it up at one point in junior college because I kept getting knocked down."
"I'll do whatever they need me to do," explained Johnson. "I know my size (6-2/213) is a big thing. That's probably the reason why they drafted me. I'm just ready." (Favorite coverage?) "Press man. I like to get down there and get greedy."
"I grew up watching him at Wisconsin, so it's going to be amazing to be on the same team," described Scharping about being a teammate to Texans defensive end JJ Watt. "You're going against the best defensive line in the country. You got him. You got Clowney. Games should be a lot easier."
"Everything happens a little bit faster at guard. You need to have your hands and feet ready a little bit faster than at tackle," said Scharping about potentially playing at guard. "It's a little bit more physical inside, so you've got to adapt your game a little bit."