Houston Dash fans welcome back World Cup stars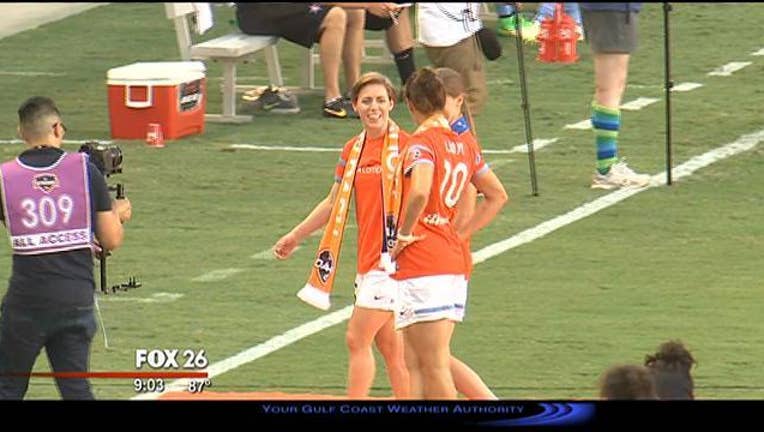 article
Close to 14,000 excited fans packed the BBVA Compass Stadium to welcome back three American World Cup stars and Houston Dash players.  The Dash took on the Chicago Red Stars Sunday.  The World Cup champs made a conscious decision to sit out the game. They say the are still recovering from all the intense traveling and playing in Canada. Still fans say they wouldn't miss tonight's game for the world.

You might think Sunday's game was the World Cup all over again, even though the crowd's favorites are getting some much needed rest.

"I watched all the games. And I'm just really excited to be here and get to see them," Brianna McMahon said.

"It brings a lot of motivation back to the other players who are here already along with the girls who just won it. It's lot of motivation, inspiration to players on the team," Connor Haney said.

Fans rooting for Morgan Brian, Meghan Klingenberg and the name you hear everywhere Carli Lloyd. 

"She can like score goals from the half way point like she did in the finals. She's just really good. I play what position she plays," Grace Tarantino said.

"She's such a good role model for young women. Clean wholesome. The one you want your daughter to be like," Mary Ann Miron said.

Carli Lloyd says the World Cup had given the Dash a huge boost.

"Even though we did just win a World Cup this league is very important and it's very important for the growth of soccer. We've inspired a nation. We've inspired not only little girls, but boys, teenagers, moms, grand moms," Lloyd said.

Fans certainly agree.  

"It brings a lot of hype to Houston that we actually produce players play for the U.S. women's team," Brian La said.

"The economy it's a great boost and the girls growing up to be soccer players this is a big boost for them," Miron said.