First Astros playoff run without one standout fan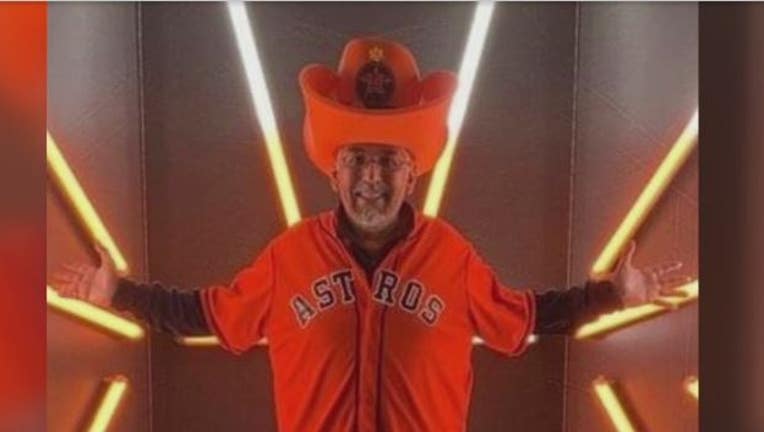 HOUSTON - The 2021 Astros playoff season will be the first one without the presence of one standout fan. Dave Rojas was one of the founders of the Big Hat Posse. Known as Downtown Dave, he was a staple at all Houston sports games and a dear friend to so many. 
Whether at home in the Juice Box or on the road, it's hard to miss those giant, orange cowboy hats worn by diehard fans inducted into the Big Hat Posse.  
But this playoff season is the first time the Posse is cheering on the Astros without their fearless leader, Dave Rojas.   
"I know he's upstairs cheering on and we're trying to make him proud," said Laura Rojas, Dave's sister.  
This January, Dave passed away after contracting COVID-19 while battling Stage 4 colon and lung cancer.  
His passing shocked many but during the pandemic, his family felt he wasn't given the funeral he deserved. 
"When he had chemo, we used to go up there with him and sit next to him and hold his hand during his treatments. But because of the pandemic, we weren't allowed. It was heart-wrenching for our family because we wanted to be there. We felt like we got robbed a little bit," Rojas said.  
Nine months later, Dave's memory lives on through the Living Icons Exhibit at The Health Museum.   
The memorial commemorates more than 700 COVID-19 victims from the Houston area. 
"I wanted a name and a face to the people around our city who had passed away, so they could have an identity because it was such a loneliness and isolation. Dying alone, not having a funeral, or having to pick how many people came to your funeral." 
"I'm Greek Orthodox so I have a Byzantine background and that's the reason for all these little haloed figures we have in our icons; I wanted to make these people into icons. Living icons," said Joni Zavitsanos, the exhibit's artist. 
"During the whole pandemic they just kept saying numbers, numbers of people dying. These are not just numbers. They're people," said Hilary Acuna, Dave's niece.   
FOR THE LATEST NEWS UPDATES, DOWNLOAD THE FOX 26 NEWS APP
Dave's legacy will certainly live on through these notorious big orange hats.   
His family says Dave would've been thrilled and proud to see the Astros historic return to the ALCS for the fifth year in a row.  
"He's here in our hearts and we're there along with him," Rojas said.  
The Living Icons exhibit is open to the public until January 2022 at The Health Museum near Hermann Park.