Astros bats come alive in Game 5 of ALCS, take 3-2 series lead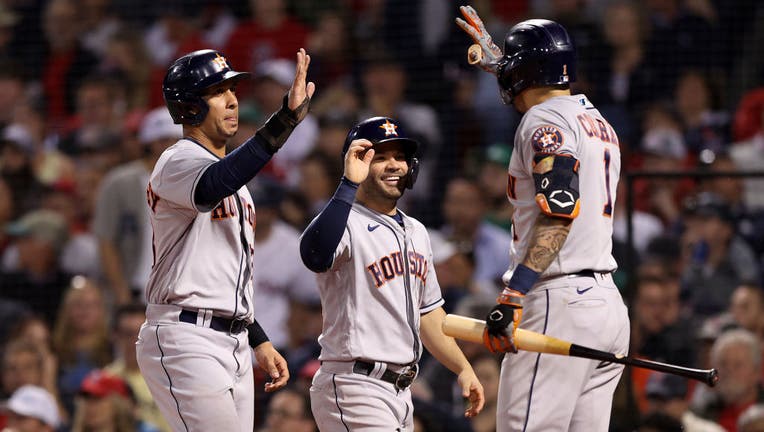 BOSTON - The Houston Astros are now one game away from the World Series. 
The Astros won Game 5 by a final of 9-1 and take a 3-2 series lead as the ALCS heads back to Houston for Game 6 on Friday night. 
Game 5 of the American League Championship Series started with a solo home run by Yordan Alvarez over the Green Monster in left field.
Then it was a pitching duel between Houston Astros Pitcher Framber Valdez and Boston Red Sox Pitcher Chris Sale through the end of the fifth inning. 
DOWNLOAD THE FOX 26 NEWS APP FOR THE LATEST ALERTS
In the top of the sixth inning, the Astros bats came alive again starting with Yordan Alvarez hitting a 2-run double into left field scoring Jose Altuve and Michael Brantley.
Following a pitching change by the Red Sox, a single into right field by Yuli Gurriel scored Alvarez, extending the Astros lead to 4-0. 
The next batter, Jose Siri, breaks the game open after hitting a single into right field, scoring Justin Tucker and Gurriel. Astros lead 6-0. 
Going to the top of the seventh inning, Michael Brantley hits an RBI single into center field scoring Jose Altuve. Astros lead continues to grow to 7-0. 
In the bottom of seventh inning, a solo home run into right by Rafeal Devers skimmed the lead to 7-1 Astros. 
The in the top of the 9th inning, Gurriel hits a line drive into center field and scores two more runs. Astros lead 9-1. 
Game 6 will take place on Friday night at Minute Maid Park in Houston.