Altuve, Keuchel win Gold Glove awards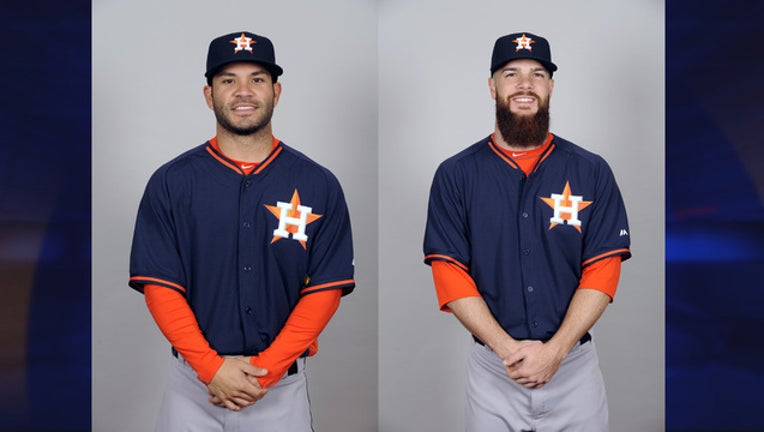 HOUSTON (FOX 26) - Rawlings Sporting Goods Company, Inc. announced on Tuesday that Houston Astros second baseman Jose Altuve has won his first Gold Glove for his excellent defensive work while Astros pitcher Dallas Keuchel has won his second consecutive Gold Glove honor.
"It means a lot just because of the company that has come before me with Greg Maddux, Jim Kaat, Mark Buehrle," Keuchel told FOX 26 Sports. "All those guys I'm a fan of. To be a recipient of this award with those guys, it really means a lot. It's something I take extreme pride in each time out.I try to shorten the game for the guys behind me."
Dallas Keuchel is also thrilled for his teammate Altuve
"Extremely happy for that guy," added Keuchel. "He works his butt off and is truly one of the best guys in the league."
Astros catcher Jason Castro was named a finalist for an American League Gold Glove, but it was awarded to Kansas City Royals catcher Salvador Perez.
The Rawlings Gold Glove Award was created in 1957. The winners are determined by combining votes from Major League managers and coaches with a sabermetric component.
Altuve led all Major League second baseman this season in fielding percentage (.993), committing only five errors in his 669 total chances. His .993 fielding percentage was the highest ever produced by an Astros second baseman in a single season, surpassing the previous record of .992, set by Bill Doran in 1987. He finished his season strong and did not commit an error in his last 51 regular season games and five postseason games, while handling 234 total chances in that time frame.
In addition to his fine pitching in 2015 (20-8, 2.48 ERA, 232 IP), Keuchel led all American League pitchers in total chances (72) and assists (53), while ranking fourth among AL pitchers in putouts (18). He made just one error all season for a .986 fielding percentage, giving him two errors in 138 total chances over the last two seasons combined. Keuchel was one of only five AL pitchers to make one error or less while pitching 200 or more innings, joining R.A. Dickey, Sonny Gray, Corey Kluber and teammate Collin McHugh.
With Altuve winning the award, he is now just the second second baseman in franchise history to win a Gold Glove, and the ninth player, joining Keuchel (2014-15), OF Michael Bourn (2009-10), C Brad Ausmus (2001-02, 2006), 2B Craig Biggio (1994-97), 1B Jeff Bagwell (1994), OF Cesar Cedeno (1972-76), 3B Doug Rader (1970-74) and SS Roger Metzger (1973). Prior to this season, the last time the Astros had two teammates win Gold Gloves in the same season was in 1994, when Bagwell and Biggio took home the honors.