Where and when to get Houston ISD's free food distribution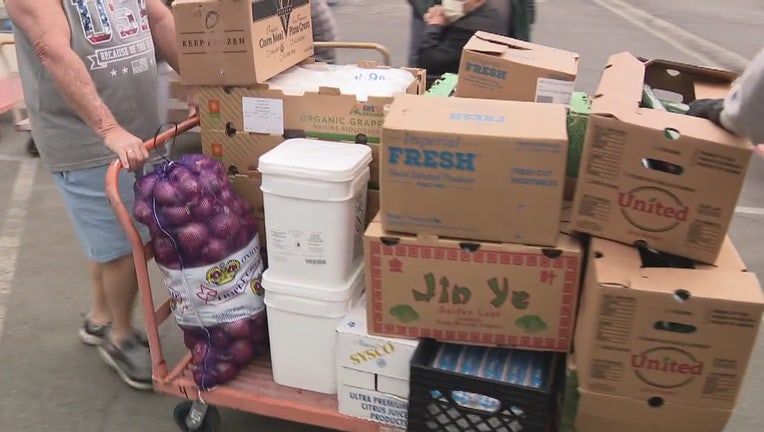 HOUSTON - Houston Independent School District is continuing its food distribution efforts around the city.
HISD relaunched to program on Monday, April 6, with a streamlined process that implemented increased safety measures.
FOR THE LATEST NEWS & WEATHER UPDATES DOWNLOAD THE FOX 26 APPS
Currently, it's operating out of 25 sites throughout the district.
Food is being packed by HISD Nutrition Services staff at the Hexser T. Holliday Food Services Support Facility and then delivered daily to each site, in alignment with our updated procedures and safety measures. Each site can distribute up to 500 bags — or 15,000 pounds of food — per day.
RELATED: Houston businesses, organizations help keep kids fed during COVID-19 crisis
As families arrive, staff will minimize contact by filling out required forms for families and placing food in their trunks. Those who walk to the sites also must adhere to strict social distancing requirements.
Specific locations, dates, and times are listed below.
Monday, May 18
Shadydale Elementary School, 5905 Tidwell Road, 9 a.m.
Jones Futures Academy, 7414 St. Lo Road, 9 a.m.
Revere Middle School, 10502 Briar Forest Dr., 11 a.m.
Highland Heights Elementary School, 865 Paul Quinn St., 3 p.m.
Fleming Middle School, 4910 Collingsworth St., 3 p.m.
Tuesday, May 19
Clifton Middle School, 6001 Golden Forest Dr., 9 a.m.
Cook Elementary School, 7115 Lockwood Dr., 9 a.m.
Tijerina Elementary School, 6501 Sherman St., 11 a.m.
Fondren Middle School, 6333 S. Braeswood Blvd., 3 p.m.
Sterling Aviation High School, 11625 Martindale Road, 3 p.m.
Wednesday, May 20
Milby High School, 1601 Broadway St., 9 a.m.
Jane Long Academy, 6501 Bellaire Blvd., 9 a.m.
Mitchell Elementary School, 10900 Gulfdale Dr., 11 a.m.
Northside High School, 1101 Quitman St., 3 p.m.
Henry Middle School, 10702 East Hardy Road, 3 p.m.
Thursday, May 21
Waltrip High School, 1900 W. 34th St., 9 a.m.
Furr High School, 520 Mercury Dr., 9 a.m.
Madison High School, 13719 White Heather Dr., 11 a.m.
Benavidez Elementary School, 6262 Gulfton St., 3 p.m.
North Forest High School, 10726 Mesa Dr., 3 p.m.
Friday, May 22
Chavez High School, 8501 Howard Dr., 9 a.m.
Sam Houston Math, Science, and Technology Center, 9400 Irvington Blvd., 9 a.m.
Key Middle School, 4000 Kelley St., 11 a.m.
Bastian Elementary School, 5051 Bellfort Ave., 3 p.m.
Sharpstown High School, 7504 Bissonnet St., 3 p.m.
There are also other options for families in need.
The City of Houston is operating a curbside meal program at 50 community centers around the city Monday through Friday from 1 to 3 p.m. Free meals, including a lunch and a snack, are available for youth ages one to 18. Only children who come to the site for pickup can receive the meal. Parents are not allowed to take food for a child who is not present at the time of pickup.
Additionally, families can visit HoustonFoodBank.org to see the 250 open partner sites that are located across greater Houston.
MORE: Food services available to those in need during COVID-19 outbreak