Whataburger prohibits open carry of firearms at restaurants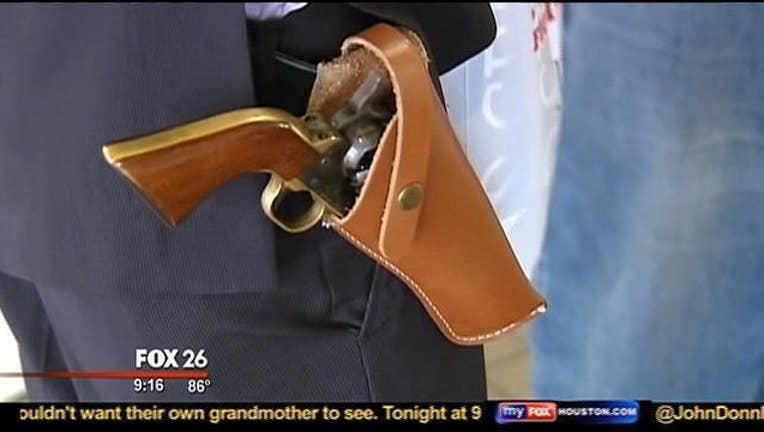 It is a new Texas law that will take affect at the start of next year. Those who are properly licensed will be able to openly carry their handguns. But one popular Texas fast food chain is saying they don't want you flashing your guns at their stores.
Whataburger representatives say customers who are licensed to carry concealed weapons may continue to do so but when the open carry law takes effect they will not be allowing customers to openly carry firearms inside their stores.
"The ban on open carry inside, I mean, it's their rules, that's their deal but I'm for open carry. I think it's Texas," said Richard Castillo, a Whataburger patron. 
"I feel like a business should be able to make their own policies and whatever they feel is necessary is good for most people," said Liza Jones, another Whataburger patron.
Earlier this year, the Texas Legislature passed a law allowing license handgun holders to open carry but private property owners have the freedom to ban open carry on their premises if they desire.
The open carry law takes effect on January 1, 2016. In an open letter on their company website, the President and CEO of Whataburger, Preston Atkinson, said they support Second Amendment rights but decided to prohibit open carry because of the desires of their customers. 
Part of the statement reads: "We've had many customers and employees tell us they're uncomfortable being around someone with a visible firearm who is not a member of law enforcement…we have a responsibility to make sure everyone who walks into our restaurants feels comfortable. For that reason, we don't restrict licensed concealed carry but do ask customers not to open carry in our restaurants." 
The customers we talked to all said they supported Whataburger's right to ban open carry. But one customer pointed out a restaurant can lose their family-oriented atmosphere when guns are openly displayed.
"I agree with the CEO. It does make me a little uncomfortable especially if you're bringing kids around so...I think it's a good move on their part. Keeps a family establishment," said Jarriel Washington, a Whataburger patron. 
Whataburger is the latest to come out with this policy. Other businesses that do not allow firearms on their property include Starbucks, Chipotle, and Target.