Walmart faces backlash after selling Antifa sweatshirts online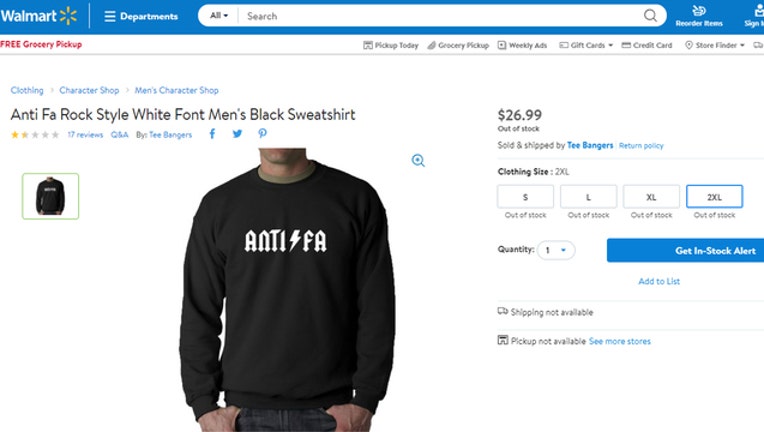 article
WASHINGTON - Walmart faced a wave of criticism after it began selling Antifa sweatshirts on its website.
The sweater in question is black with white writing that reads, "ANTI FA" with a lightning bolt.
"This 'We Are Anti Fa' white AC/DC style font sweatshirt will express yourself inside the opposition to the ideology, organizations, governments and people from the far right (fascism). Just remember to keep creating a better world," the product's description reads in part.
According to Walmart's website, the sweatshirt is sold and shipped by a third-party company. The sweatshirt, which cost $26.99, is currently out of stock, leaving many to believe Walmart pulled the product after facing an intense backlash, leading for some to call for a boycott of the massive superstore.
More than a dozen comments were left under the product, including one from user bob21801, which reads, "Perfect for the far left, true fascist basement dweller communists, but not a good choice for us conservative patriots."
While the majority of product reviews were negative, leading to 1.5 stars out of a 5-star review, user esist commented, "All of the 1 star reviews are from Fascist sympathizers."
Antifa, the controversial anti-fascist movement, is comprised of far-left-leaning militant groups that resist neo-Nazis and white supremacists and has become a target of some right-leaning websites.
The Associated Press contributed to this report.