US sailors who died in destroyer-container ship crash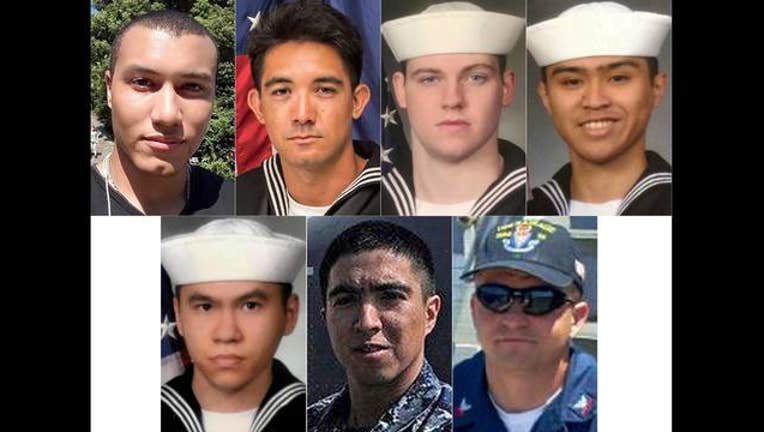 article
Among the seven U.S. Navy sailors who died in the Saturday collision between the USS Fitzgerald and a Philippine-flagged container ship off Japan were an Ohioan expecting to retire soon, a Maryland man his father called his best friend, and a former volunteer firefighter in his Virginia hometown.
Here are snapshots of them taken from interviews of family and friends with the media:
NGOC T TRUONG HUYNH, Connecticut
Sonar Technician 3rd Class Ngoc T. Truong Huynh, 25, always "had the brightest smile," his sister says. He was "selfless," Lan Huynh told WVIT-TV of Hartford, Connecticut, and the family is coping as best they can. Huynh graduated from Watertown High School and attended Naugatuck Valley Community College before enlisting in the Navy in 2014. The family moved to Oklahoma a short time later. Connecticut's governor has ordered flags to fly at half-staff in Huynh's honor.
___
ALEC MARTIN, Maryland
Personnel Specialist 1st Class Xavier Alec Martin was trying to call his father after the vessels collided but didn't get through, his father told WJZ-TV in Baltimore. All Darrold Martin can think of now are his son's final moments. The 24-year-old sailor, of Halethorpe, Maryland, followed in his father's footsteps and was quickly rising in the ranks, said Darrold Martin, who referred to his son as his best friend. "It's very hard," the elder Martin said. "He's my only child, he's all I have."
___
GARY LEO REHM JR., Ohio
Fire Controlman 1st Class Gary Leo Rehm Jr., 37, was three months shy of retiring when he was killed, his cousin tells The Chronicle-Telegram in Elyria, Ohio. Rehm was from Elyria, about 25 miles west of Cleveland, and is survived by his wife, Erin; his parents, in Virginia; and a sister in Texas, his cousin Brad Rehm said, adding that word of his death was shocking. He enlisted in the Navy in 1998.Daniel Kahle of Chesapeake, Virginia, a Navy veteran who served with Rehm while deployed to the Persian Gulf during the Iraq war, told the newspaper he hadn't spoken to his former colleague in years but will remember him as "a great guy" who always seemed to be smiling.Rehm was a graduate of Oberlin High School as a Lorain County Joint Vocational School student.
___
KYLE RIGSBY, Virginia
Nineteen-year-old Gunner's Mate Seaman Dakota Kyle Rigsby was a volunteer firefighter in his Virginia hometown before he joined the Navy. The Palmyra resident was a teenager when he signed up with the Lake Monticello Volunteer Fire Department in 2014, following in his mother's footsteps, news outlets report. Rigsby "was a good kid; he'd give his shirt off of his back for you," said volunteer firefighter Farrah Brody. Assistant Fire Chief Jean Campbell described Rigsby as "a regular kid" and a dependable firefighter. He called his death "a tragic loss." The flag was being flown at half-staff at the volunteer department to remember Rigsby.