U.S. shuts down busiest Mexico border crossing for hours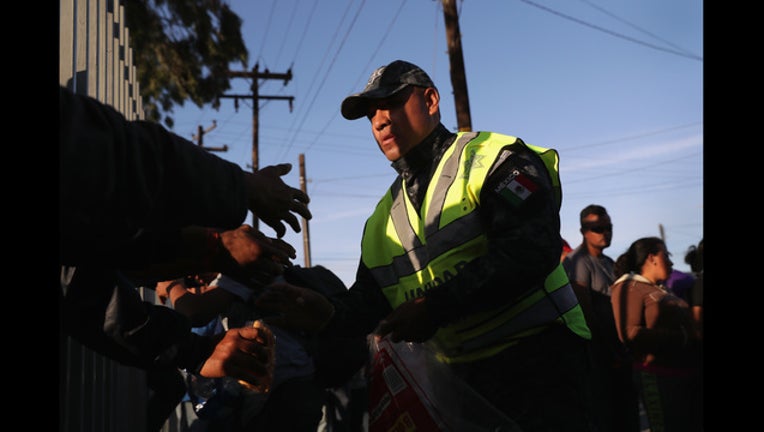 article
TIJUANA, MEXICO - The United States closed off northbound traffic for several hours at the busiest border crossing with Mexico to install new security barriers on Monday, a day after hundreds of Tijuana residents protested against the presence of thousands of Central American migrants.
The U.S. also closed one of two pedestrian crossings at the San Ysidro crossing in a move apparently aimed at preventing any mass rush of migrants across the border.
The installation of movable, wire-topped barriers threatens to complicate life for Mexicans using San Ysidro, where about 110,000 people enter the U.S. every day in 40,000 vehicles.
Long lines backed up in Tijuana, where many people have to cross the border to work on the U.S. side.
Such inconveniences prompted by the arrival of the migrant caravan may have played a role in Sunday's protests, when about 400 Tijuana residents waved Mexican flags, sang the Mexican national anthem and chanted "Out! Out!" referring to the migrant caravan that arrived in the border city last week.
Tensions have built as nearly 3,000 migrants from the caravan poured into Tijuana in recent days after more than a month on the road - and with many more months likely ahead of them while they seek asylum in the U.S. The federal government estimates the number of migrants could soon swell to 10,000.
U.S. border inspectors are processing only about 100 asylum claims a day at Tijuana's main crossing to San Diego. Asylum seekers register their names in a tattered notebook managed by migrants themselves that had more than 3,000 names even before the caravan arrived.
Some Tijuana residents supported the migrants, but others accused them of being messy, ungrateful and a danger to the city. They also complained about how the caravan forced its way into Mexico, calling it an "invasion." And they voiced worries that their taxes might be spent to care for the group.
"We don't want them in Tijuana," protesters shouted.
Juana Rodriguez, a housewife, said the government needs to conduct background checks on the migrants to make sure they don't have criminal records.
A block away, fewer than a dozen Tijuana residents stood with signs of support for the migrants. Keyla Zamarron, a 38-year-old teacher, said the protesters don't represent her way of thinking as she held a sign saying: "Childhood has no borders."
The protests came amid what may be a hardening of positions in some northern Mexican states against the migrants. The civil defense department of Jalisco state, where migrants pass on their way to Tijuana, said it would no longer provide shelters for migrants, citing problems with fights among migrants at a shelter last week.
Instead, the state will provide water, some food and escorts at nine points along the main highway leading through the state to help ensure the migrants don't have to stop.
And in Mexico City, authorities closed a shelter at a sports complex that had once housed thousands of migrants. The remaining 650 migrants from the third, mainly Salvadoran, caravan were taken to a Roman Catholic pilgrimage hostel at the Basilica of Guadalupe. The city said the hostel would be warmer.
Most of the migrants who have reached Tijuana via caravan in recent days set out more than a month ago from Honduras, a country of 9 million people. Dozens of migrants in the caravan who have been interviewed by Associated Press reporters have said they left their country after death threats.
But the journey has been hard, and many have turned around.
Alden Rivera, the Honduran ambassador in Mexico, told the AP on Saturday that 1,800 Hondurans have returned to their country since the caravan first set out on Oct. 13, and that he hopes more will make that decision. "We want them to return to Honduras," said Rivera.
The migrants' expected long stay in Tijuana has raised concerns about the ability of the border city of more than 1.6 million people to handle the influx.
Tijuana Mayor Juan Manuel Gastelum has called the migrants' arrival an "avalanche" that the city is ill-prepared to handle, calculating that they will be in Tijuana for at least six months as they wait to file asylum claims. Gastelum has appealed to the federal government for more assistance to cope with the influx.
Tijuana officials converted a municipal gymnasium and recreational complex into a shelter to keep migrants out of public spaces. The city's privately run shelters have a maximum capacity of 700. The municipal complex can hold up to 3,000.
At the municipal shelter, Josue Caseres, 24, expressed dismay at the protests against the caravan. "We are fleeing violence," said the entertainer from Santa Barbara, Honduras. "How can they think we are going to come here to be violent?"
Elsewhere on Sunday, a group of 200 migrants headed north from El Salvador, determined to also find safety in numbers to reach the U.S.
Edwin Alexander Gomez, 20, told AP in San Salvador that he wants to work construction in New York, where he hears the wages are better and the city is safer.
U.S. President Donald Trump, who sought to make the caravan a campaign issue in the midterm elections, used Twitter on Sunday to voice support for the mayor of Tijuana and try to discourage the migrants from seeking entry to the U.S.
Trump wrote that like Tijuana, "the U.S. is ill-prepared for this invasion, and will not stand for it. They are causing crime and big problems in Mexico. Go home!"
He followed that tweet by writing: "Catch and Release is an obsolete term. It is now Catch and Detain. Illegal Immigrants trying to come into the U.S.A., often proudly flying the flag of their nation as they ask for U.S. Asylum, will be detained or turned away."
___
Associated Press writer Julie Watson contributed to this story from Tijuana and Marcos Aleman contributed from San Salvador.