Tour bus carrying 26 children overturns on I-95 in Maryland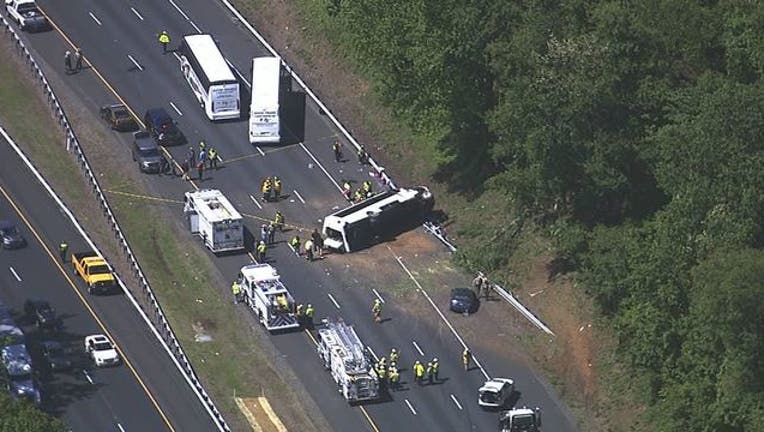 article
HAVRE DE GRACE, Md. - Maryland State Police say 26 children were aboard a bus that overturned on Interstate 95 Monday morning. The crash happened in the southbound lanes of I-95 at exit 89, which is MD 155, in Havre de Grace.
Maryland State Police said one child and one adult were flown to hospitals by helicopter, and others were transported by ambulances to five different area hospitals. It's not clear exactly how many people were transported. School district officials said some of the students had been released from the hospital.
The bus was carrying eighth grade students from C.W. Henry School in West Mount Airy, Pa. They were on their way to Washington, D.C. for a day trip when the accident happened. In all, 26 children, two teachers, one parent who was chaperoning the trip and the bus driver were aboard the bus when it crashed. 
Philadelphia police officers who were also taking buses to Washington for a Police Officers Memorial event spotted the crash and stopped to help. 
According to police, their preliminary investigation has found the driver of passenger vehicle tried to pass the bus in the left lane, but lost control of his vehicle for unknown reasons. The driver of the vehicle drove off on the left side of the interstate, then returned to the travel portion, crossing all three lanes of traffic and clipping the front of the bus. The bus ended up hitting an embankment and striking a tree before overturning onto its left side on the roadway. The incident remains under investigation.
The driver of the passenger vehicle from Maryland refused medical treatment at the scene, police said.
Northbound lanes of I-95 are open, but traffic was moving slow through the area. Southbound lanes of I-95 were reopened just after 2 pm.