Tornadoes, apparent twisters, rain, hail across southeast U.S.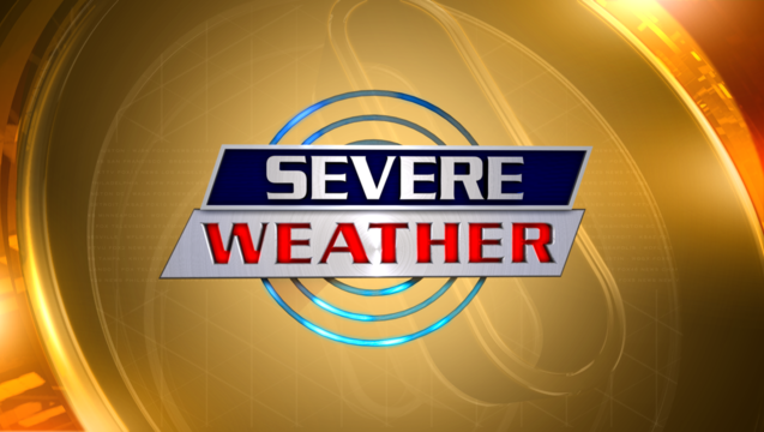 article
ATLANTA (AP) - Severe storms raking the Southeast unleashed one large tornado and more than a half-dozen apparent twisters Wednesday, toppling trees, roughing up South Carolina's "peach capital" and raining out golfers warming up for the Masters.
A powerful tornado toppled trees and downed power lines in rural Georgia and similar scenes played out in spots around Alabama and South Carolina amid drenching rain, high winds and scattered hail - some as big as baseballs.
The severe weather outbreak was the second to hit the South in less than a week, but no deaths or significant injuries were reported by Wednesday evening. Storms on Sunday and Monday killed five people, including a Mississippi woman who desperately called 911 from a car that plunged into a rain-swollen creek.
Portions of Kentucky and Georgia were still under threat of tornadoes late Wednesday, and flash flooding was possible in the Atlanta area, according to the National Weather Service.
Authorities in Johnston, South Carolina, a town of 2,300 that calls itself The Peach Capital of The World, reported a possible tornado there damaged about a dozen buildings. Crews couldn't immediately check nearby peach orchards but authorities said those were already severely damaged by a late March hard freeze.
Johnston Mayor Terrence Cullbreath said he opened a local armory as a shelter and that lights were out and many streets were blocked by fallen trees. Thousands had lost power across the three states Wednesday, with utilities struggling to keep up.
"We need power back," Cullbreath said by phone. "But there likely are more storms coming and they can't get the power back in bad weather."
In southwest Georgia, a powerful tornado that touched down at midday traveled some distance on the ground in rural Stewart County, National Weather Service Meteorologist Keith Stellman said. It left downed power lines and trees on roads, said Sandra James, a sheriff's office dispatcher.
Elsewhere, a suspected tornado touched down in southeastern Alabama, before crossing into Georgia, forecasters said. All told at least nine possible tornados had been reported across Alabama, Georgia and South Carolina as the day wore on with more reports likely as the storms continued into the evening.
In Alabama, the storm hit an area dotted with vacation and full-time homes around Lake Eufaula, damaging some homes and knocking down power lines and trees, said official John Taylor, with the Henry County Emergency Management Agency. He also reported no deaths or injuries there.
Tornadoes weren't the only threat Wednesday. The nation's Storm Prediction Center said winds were blowing at near 70 mph (110 kph) in some areas, downing trees in several states.
Alabama Gov. Robert Bentley declared a state of emergency and deployed 50 National Guard soldiers. There also were multiple school closings in Alabama and many early dismissals in South Carolina.
The Federal Aviation Administration temporarily halted flights to Atlanta's airport but those later resumed with arrival and departure delays.
As storms bore down on Augusta National, the venerable east Georgia club shut down for the second time this week as golfers tried to get in some practice before the start of the Masters tournament later this week. Officials cut short the final afternoon practice and ordered rain-bedraggled fans to leave the course. Augusta National also closed Monday because of heavy rains.
In the east Alabama city of Oxford, convenience store manager Don Copeland was working up courage to go outside and look at his truck after a storm dumped so much grape-sized hail the ground turned white.
"It's a 2015. I just made a $550 payment this morning," Copeland said.
The weather service said it had gotten reports of baseball-sized hail in the west Alabama town of Camden, but only small ice pellets fell at the McGraw-Webb Chevrolet Inc.
"Thank goodness we did not get that. We just had pea-sized hail, and two or three cars were damaged," said Evan Bohannon, who handles online sales for the dealership.
In central Kentucky, Mike Callahan of the National Weather Service in Louisville said some areas received large amounts of hail Wednesday evening - some of it several inches deep. The hydrologist also reported winds up to 72 mph (115 kph) in places.
Kentucky State Police Trooper Joshua Lawson also said in an email that a mobile home in Kentucky's Henry County overturned with a family inside, but no one was injured amid the high winds.
___
Reeves contributed from Birmingham, Alabama. Associated Press Writer Jeffrey S. Collins contributed to this report from Columbia, South Carolina.