Taiwan president calls for clear probe of fatal train crash; 18 killed, nearly 200 injured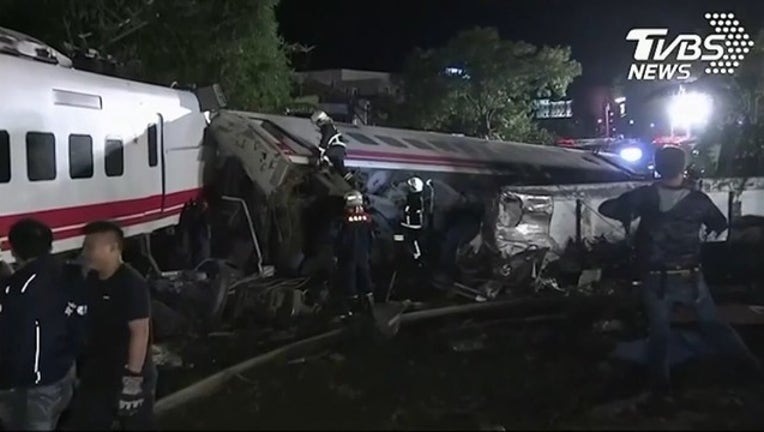 article
DONGSHAN TOWNSHIP, Taiwan (AP) - Taiwan's president pressed for a quick, transparent probe into the cause of the island's worst train crash in nearly three decades as the search of the derailed cars ended and crash investigators examined the wreckage Monday.
The eight-car Puyuma express ran off the tracks as it went around a bend where the maximum speed is 75 kilometers per hour (47 mph). Video footage obtained by local media showed the train striking and toppling a beam and ripping down metal structures from above the tracks as it crashed.
Eighteen people were killed and 187 injured in the crash that left most of the cars damaged and five overturned in a zig-zag pattern to the left of the tracks. Rescuers searched through the night for more victims before work crews moved the derailed cars upright to assist the investigation.
"Everyone cares a lot about the cause of the accident," Taiwan President Tsai Ing-wen said in a statement from her office. "Therefore we request that the investigating departments must as soon as possible make clear the timing and situation of the whole accident from start to finish and be able to give citizens a report."
That report may take more than a day as investigators do interviews and check records, a Taiwan Railways Administration spokesman said on customary condition of anonymity. The speed of the train was not being released due to the pending investigation, but has not been ruled out as a cause.
The Taiwan Railways Administration said it has not released any official video pending the investigation.
Survivors told Taiwan's official Central News Agency the driver applied emergency brakes multiple times before the train derailed. One told local television reporters the train sped up after taking the curve.
Crash investigators checked inside and underneath the now-upright cars for evidence. The Yilan County prosecutor also surveyed the wreckage as her office talked to witnesses.
The 6-year-old trains were built to travel at an especially fast 150 kph to ease transportation on rugged parts of the island. They are designed to tilt when going around curves.
Taiwan Railways bought the Puyuma cars in 2011 from Japanese maker Nippon Sharyo for $260 million. The seller said then that the trains were part of a $46 billion upgrade of the line along Taiwan's east coast.
The train that derailed had its most recent inspection and major maintenance work in 2017, Taiwan Railways Director Lu Chieh-shen said Sunday at a televised news conference.
Lu offered to resign Monday, an offer that is not unusual in Taiwan in such situations. It's not yet certain if his offer would be accepted or if he would be asked to stay as the investigation continues.
Five people killed including a 9-year-old boy and a 12-year-old girl belonged to a single family. Three students and two teachers who died were from the same middle school.
Some passengers were crushed to death, Ministry of National Defense spokesman Chen Chung-chi said. Of the total injured, seven were still receiving intensive hospital care on Monday morning, county news liaison Liu Ya-chih said. No one had life-threatening injuries, she said.
The train had been carrying more than 360 passengers on a popular weekend route from a suburb of Taipei in the north to Taitung, a city on Taiwan's southeast coast.
Railway service was partly restored Monday.
A 1991 train wreck killed 30 people, and Sunday's derailment was at least the third deadly rail accident in Taiwan since 2003.
A tourist train overturned in the southern mountains in April 2011 after a large tree fell into its path. Five Chinese visitors were killed. A train undertaking a test run ignored a stop sign and crashed into another train in northeastern Taiwan in June 2007. Five people were killed and 16 others hurt.
And in March 2003, a train derailed near a popular mountain resort, killing 17 people and hurting more than 100 people. Investigators blamed brake failure.
___
AP writers Johnson Lai in Su'Ao, Taiwan, Yanan Wang in Beijing and Elaine Kurtenbach in Bangkok contributed to this report.