State, federal agents flock to Brookshire airport to figure out what caused morning plane crash
WALLER COUNTY - The survivors, other than the two that were taken to the hospital, went back to Houston Executive Airport after the crash in Waller County.

The 21 people on board that crashed flight left from the airport at 10 a.m. and just behind the building is where the plane crashed. Looking at the wreckage it's hard to believe anyone, let alone everyone on board, survived.
RELATED: Texas plane crash latest: Plane was headed to Boston; all onboard survive, 2 hospitalized

"They're going to Boston to the Astros game for entertainment, a joyful event, then this happens," says Texas Emergency Management District Coordinator Ronald Walker. 
Fortunately, all 18 passengers and three crew members were able to get off the crashed MD-87 plane before it burst into flames. 
After the crash at the Houston Executive Airport in Brookshire, a number of government officials flocked there to figure out exactly what happened, including the FAA. 

"It's an accident. Everybody came out safe. It's under investigation," says one investigator.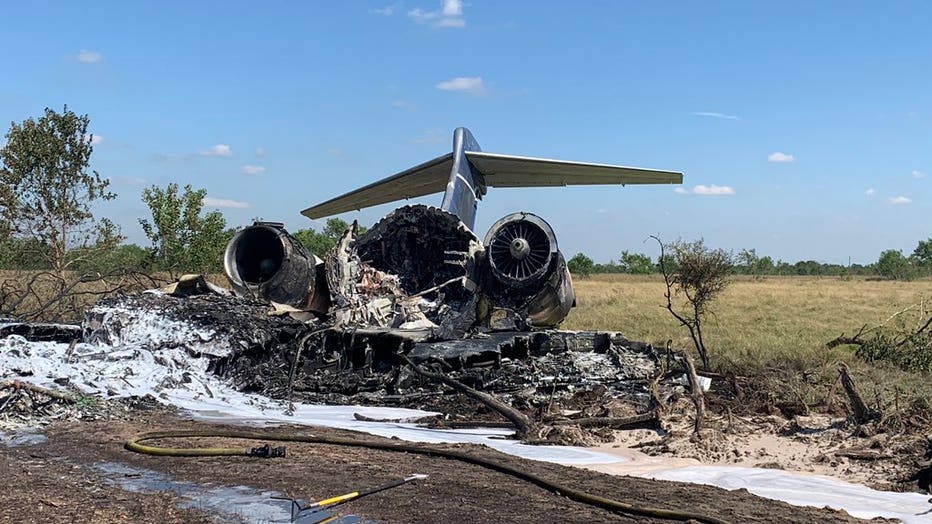 (Harris County Fire Marshal's Office)
The Texas Division of Emergency Management is also one of the agencies helping out as investigators look into what caused the plane crash in Waller County.
"Don't know if it was mechanical or pilot error, don't know," says Walker.
SIGN UP FOR THE FOX 26 NEWSLETTER
So many people are saying it is a miracle that all 21 people, who left the airport for a morning flight to go cheer on the Astros in Boston, were on the plane that ended up crashing in a field, actually lived to tell about it. 
"Yes. Thank the Lord," smiles Walker. 

Many of the plane crash survivors were actually wearing their Astros attire when they walked out of the airport to head home, even as the plane burned uncontrollably just behind the building.