Severe weather: 14 tornadoes confirmed in North Texas, with more being investigated
There is damage in several places across North Texas with a storm system leading to multiple tornadoes.
The National Weather Service says 14 tornadoes have been confirmed so far in North Texas, and one or two more may have occurred on Tuesday.
The National Weather Service looked at things like whether trees were snapped or uprooted to make their determination. They look at a lot of factors, including soil saturation and health of the tree.
Six of the tornadoes touched down in Tarrant County, one in Collin County, one in Wise County, one in Cooke County, one in southeast Palo Pinto County, one in Eastland County, one in Erath County, one in Hunt County, and one west of Paris.
The tornado in Wise County was an EF-2 producing winds up to 125 miles per hour.
In Tarrant County, there were two EF-0s and one EF-1 near JRB. The National Weather Service said they all came from the same parent storm.
Another EF-1 tornado had a 1.5 mile-long damage track in North Richland Hills.
And an EF-0 tornado damaged a home northwest of Callisburg in Cooke County.
NWS crews were out surveying Wednesday morning. 
FOX 4 caught up with meteorologist Jennifer Dunn as she assessed the damage.
"We know there was a tornado, there was video evidence of that, but looking at what was damaged, and what type of damage, using that to determine the ratings, wind speed, and path and length of the tornado," she said.
While tornadoes are unusual in December, they are not unheard of.
In 2015, an outbreak of 12 tornadoes in North and Central Texas killed 13 people the day after Christmas. Nine of the victims were in vehicles at the I-30 interchange with Bush Turnpike in Garland.
"Warm, humid air from the gulf, and cold fronts that can all come together to produce severe weather or tornadic activity," Dunn explained.
Dunn says Tuesday's tornadoes were a challenge because of how quickly they formed, but they still managed to get warnings out.
"We do feel very good when we can get through an event with no fatalities and minor injuries," she said.
MORE STORM COVERAGE:
Decatur
At least one tornado has been reported near Decatur with possible injuries and several homes destroyed.
FOX 4 viewer Darrell Barton shared video of the funnel cloud appearing to touch the ground at times.
Tori Barnard sent FOX 4 a photo of a crane that was knocked over by the winds.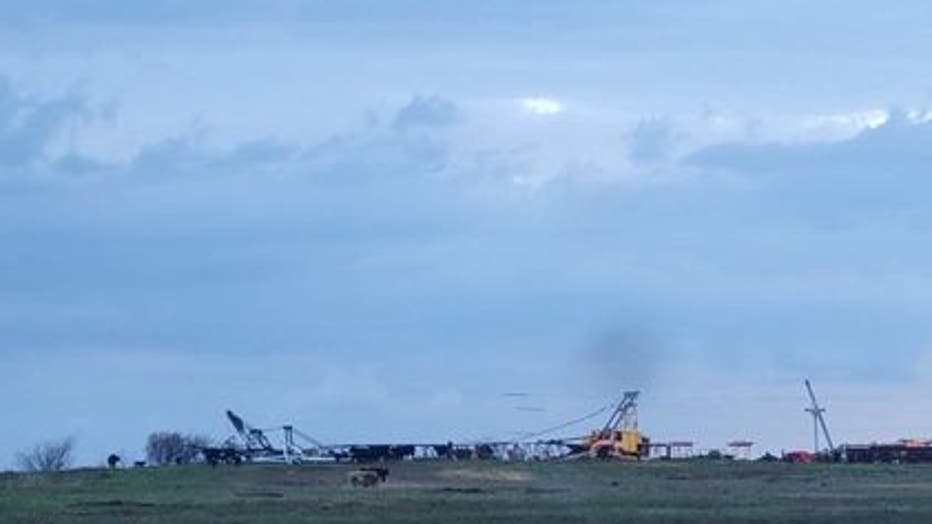 Wise County says it reported two injuries. One was injured from flying debris while traveling in their vehicle, another was injured when their vehicle was overturned due to high wind.
Grapevine
The city of Grapevine says the storm came through at approximately 8:45 a.m. on Tuesday, leaving miles of damage.
The first area of impact was just of SH-26 and SH-114.
A NWS storm survey team confirmed EF-1 damage with a tornado that tracked through Grapevine. Max winds were 110 mph. 
The tornado lifted at the lakeshore and a second short track tornado formed near Grapevine Mills Mall also as an EF-1 with max winds of 100 mph.
Grapevine police tweeted a photo of an 18-wheeler that sustained significant damage in a Sam's Club parking lot in the area.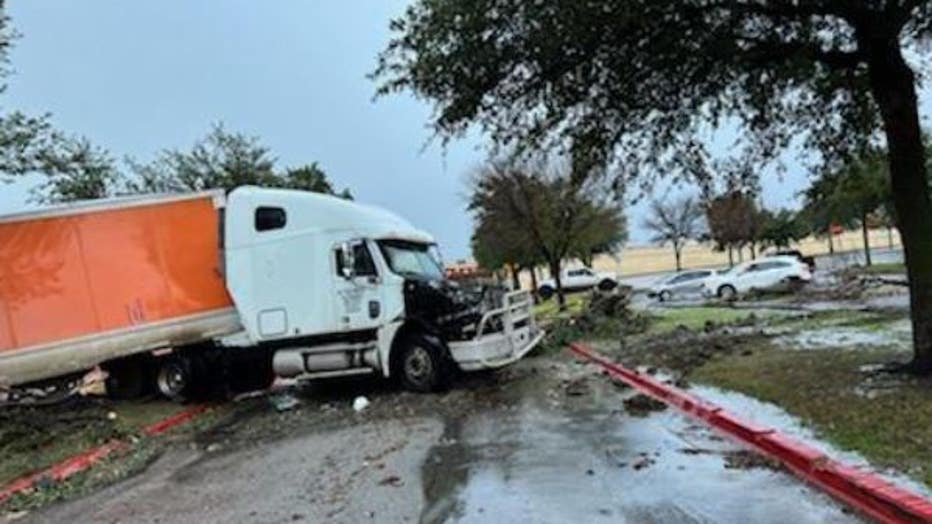 Grapevine Police Captain Todd Dearing says a probable tornado was reported in the Sam's parking lot and there was damage to Sam's and neighboring buildings.
Twitter user Blondies_77 shared a photo from inside the Sam's Club showing the roof had collapsed.
"Huge gust of wind hit our fence through the yard, blew all kinds of things into backyard, including a 7-foot swing set," homeowner Nicole See.
See took shelter in her pantry with her daughter to ride out the tornado that brought insulation from Sam's Club two miles away as it ripped through her backyard.
"People I didn't know offering to do dinner for us, help clean up, and pick up. That's why I love Grapevine," she added.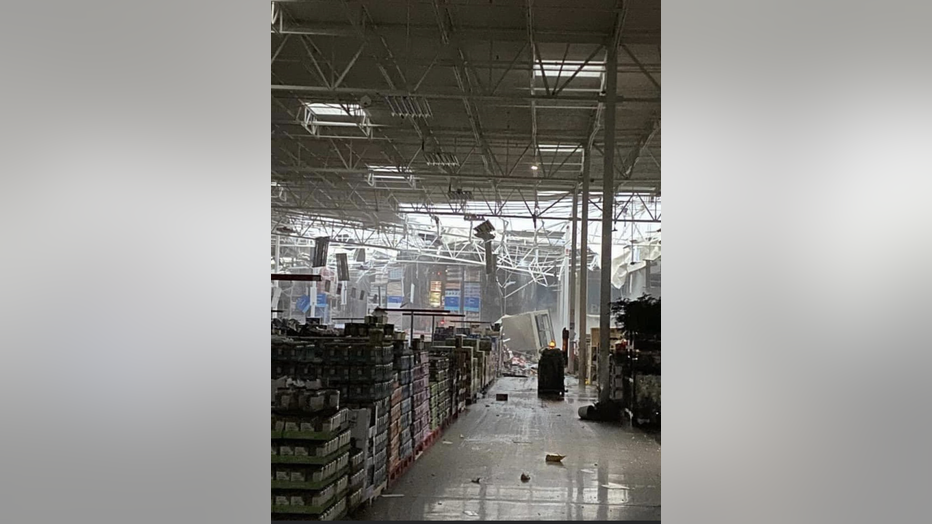 (Source: Twitter/Blondies_77)
Video from inside a Discount Tire in Grapevine shows the chaos as the storm came through the area.
The storm continued along Northwest Highway taking down power lines and uprooting trees, before causing damage to the city service center and Grapevine Mills Mall.
Kaleb Bryan was driving as the storm came through. He caught video of the storm clouds from his car, screaming "Oh my gosh!"
5 people sustained minor injuries.
READ MORE: 'I am in a tornado': Driver finds himself inside of storm in Grapevine
Up to 8,000 customers lost power in the morning. The REC of Grapevine opened as a shelter for people without power. It will stay open until 10 p.m. or where it is needed.
Grapevine police say they will increase patrols to make sure impacted businesses and property are protected overnight.
Blue Ridge
An EF-2 tornado moved through Blue Ridge Tuesday.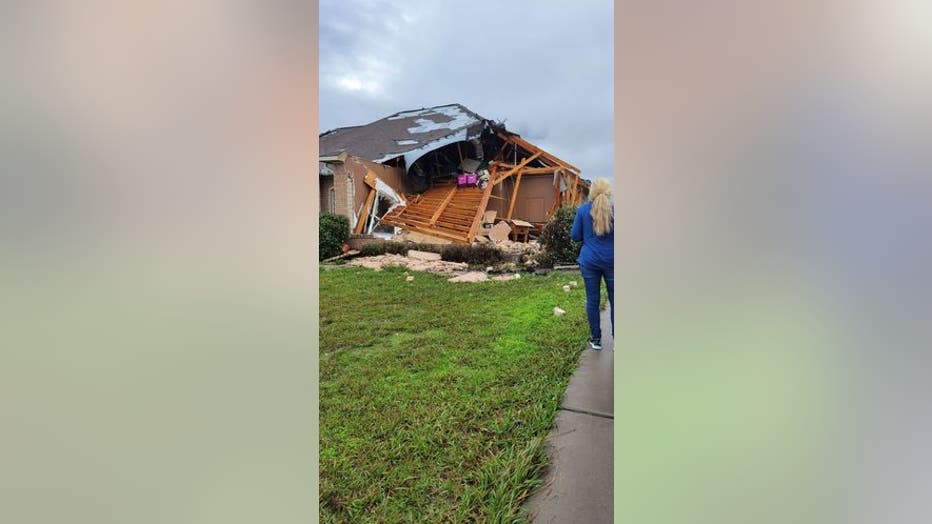 (Source: Samantha Martin)
Storm teams surveyed damage in eastern Collin County. It was determined there was an EF-2 from Blue Ridge to Leonard that had one long continuous track.
At Blue Ridge ISD Superintendent Matt Kimball says most students were able to shelter in a gym that doubles as a storm shelter. 
"Came right across football and baseball field, blessed not academic buildings, superficial," he explained.
School remained out Wednesday while the gas lines were checked to ensure there were no leaks.
FOX 4 viewer Samantha Martin sent in a photo of a home that collapsed.
Martin says everyone inside the home made it out okay.
Footage from SKY 4 shows significant damage to homes in Blue Ridge.
North Richland Hills
The roof of a roofing company in North Richland Hills.
Ahler's Roofing Showroom had significant damage on Tuesday morning.
Fort Worth
A possible tornado was spotted at Naval Air Station Reserve Base in Fort Worth.
Video of the storm was posted by Tiffany White and William Rubi Jr.
Videos of the funnel clouds surfaced on social media. Twitter user OxB8man posted a video where the storm can be seen clearly heading towards them.
Weatherford
Photos from Peggy Crutsinger showed buildings were damaged in Weatherford on Tuesday.
An 18-wheeler was also toppled in the area.
Josh Moore in Weatherford posted video of a possible tornado behind homes in the area as well.
Sansom Park
Rebecca Norman posted a photo of a funnel cloud in Sansom Park.
There are several damage reports in the area.
Nick Marquez sent FOX 4 photos of a trailer flipped over by the winds.
White Settlement
Video from Jon Espinosa showed a funnel cloud near businesses in White Settlement. 
Do you have photos or video of storm damage? Send them to us at kdfw@fox.com.