Search continues for gunmen who shot up SE Houston apartment complex, hitting 4 teens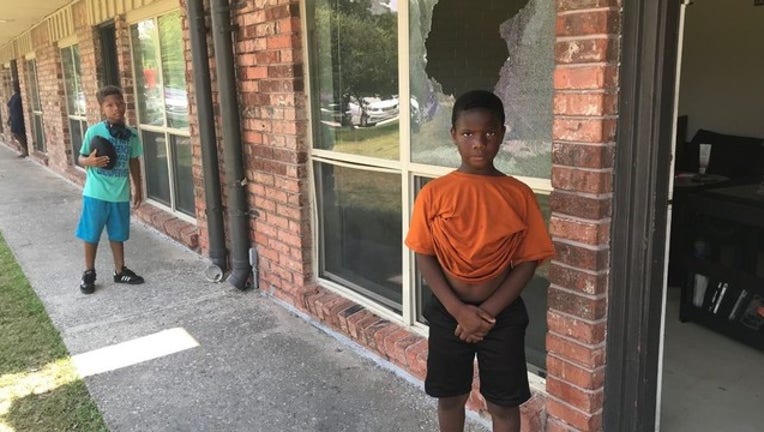 article
HOUSTON (FOX 26) — Houston police are on the hunt for at least four suspects who riddled an apartment complex with gunfire early Thursday morning, leaving four people with injuries.
It happened at about 1:45 a.m. at the Royal Palms Apartments off of Griggs Road in southeast Houston.
Neighbors say the victims were sitting on an outdoor staircase when the gunfire hit them and neighboring homes, shattering windows on at least six apartments.
"We just closed our door," said Doug Watson who lives next to the staircase. "They just started shooting. It was crazy."
The shooting victims include three teenage girls and Dyki Keller, 18, according to Houston Police. Police are not releasing the names of the juvenile victims. Police say Keller and a 17-year-old girl were rushed to the hospital with serious injuries, and two 16-year-old girls had graze wounds.
"I don't understand how 16-year-old girls are allowed out with an 18-year-old boy at 1:30, 2 o'clock in the morning," said neighbor Patricia Hall. "Where are the parents?"
Hall's 9-year-old grandson Keidrick Britten was sleeping on the couch in a neighboring apartment when the gunfire came through the window, hitting the wall above him.
"I just saw some gunshots—a bullet," said Britten.
"First thing went through my head was get him out of the living room," said Britten's 15-year-old brother Charles Baker.
"I hugged him," said Hall. "I said, 'Are you alright?' He said, 'I'm alright, Nanny.' I said, 'You sure you're alright?' 'I'm alright, Nanny.'"
"We thought it was fireworks just because Fourth of July just happened," said neighbor Taylor Crosby.
Several neighbors told Fox 26 the victims don't live at the apartments. But gunfire has happened there before.
"It hasn't happened in a while—like four months maybe—but it is kind of normal," said Baker. "We do kind of stay in a bad neighborhood."
Police say the suspects quickly got away in a car.
"It's ridiculous," said Watson. "We gotta come together."
Neighboring mosque leader Dr. Abdul Halem Muhammad stopped by to check on the apartments.
"Adults first of all have to make better choices, and in adults making better choices, we can teach our teenagers and our children to make better choices," said Muhammad.
Police say they don't have a motive or a suspect description. If you have any information that could help police catch the shooters, call Crime Stoppers at 713-222-TIPS.