San Francisco Fleet Week is in full swing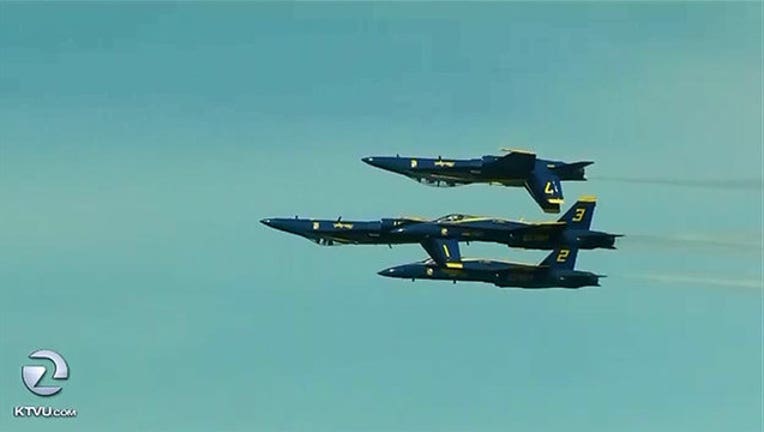 article
SAN FRANCISCO (KTVU) - San Francisco's annual Fleet Week celebration is in full swing, bringing in people from all over the country and beyond here to enjoy the activities, many of them free.
Locals and visitors say this is one of the best weekends to be in San Francisco. The aerial maneuvers by the Blue Angels showcase their precision with the clear blue October sky as their backdrop. 
Before they put on their spectacular display on Friday, there was about a 15-minute delay. An announcement was made that one plane needed to fly back to Oakland for repairs.
But the show did go on. 
 
"You can feel it and hear it before you can even see it," said Tiffany Wilson of Alabama. 
 
The Air Show will also take place Saturday and Sunday from Noon to 4 p.m. at Marina Green, but it can be seen from many vantage points. 
"To see it right in front of your eyes, right over head, is amazing," said Wilson. 
RELATED: Check Fleet Week schedule here
Just outside the Ferry Building, the 32nd Street Brass Band that is part of the Navy Band Southwest based in San Diego, played tunes that helped set the tone of Fleet Week: upbeat and festive. 
"It brings people to San Francisco. It's good for the economy, a lot of fun," said Maria Arovola of San Francisco. 
All the band members are active duty sailors. 
"Fleet week is an opportunity for us to get out into the community and show everybody that there are still sailors out in the sea protecting us 365 days a year," said Holly Carlton, a sailor and a member of the Navy band. 
One family from Hayward says they are here to teach their 8-year-old daughter about honoring the men and women who serve in the U.S. military. 
"To show gratitude, we've been teaching our little one to be grateful for everything that you have," said Ian Irungu of Hayward.
Members of the U.S. Marine Corps based at Camp Pendleton say this is the first time they're celebrating Fleet Week in San Francisco. 
"The people are amazing. They come up to us with genuine care and smiles,thanking us for everything we do," said Sgt. David Adames with the U.S. Marine Corps. 
There is a strong law enforcement presence. 
San Francisco police say extra officers are on duty throughout the weekend some will be undercover among crowds. 
"You think, 'oh my god, is this the time somebody crazy is going to come and attack it?' And I think, 'You know what, I'm not going to let anything like that stop me,'" said Colleen Dean, a native of Livermore who now lives in Canada. 
"Anyone who hasn't been to San Francisco, come to San Francisco. It's the place to be," said Lance Corporal Aalijah Preatto with the U.S. Marine Corps. He says someday, he'd like to live here. 
The 32nd Street Brass Band will be performing again Saturday and Sunday. 
They will be at Pier 30-32 both days at 10 a.m. Many ships are on display and open for tours. There is a lot to do. As of Friday, spectators say they are having a great time at Fleet Week.