HPD: Man kills himself after shooting his wife at West Houston medical facility
HOUSTON - An investigation is now underway following a deadly shooting at a medical facility in West Houston. 
Authorities said the shooting occurred just before 3 p.m. on the 12100 block of Richmond Avenue. 
According to Houston Police Department Assistant Chief Wendy Baimbridge, when officers arrived, they found a woman lying in the hallway on the fourth floor of the building. 
Baimbridge said the woman had been shot twice, once in the chest and once in the right arm. 
Authorities said as officers turned to look inside an office, they found a suspect shot at least once from an apparent self-inflicted gunshot wound.
Police identified the suspect as 64-year-old Andrew Wang.
Baimbridge stated that this case looks to be domestic violence as the victim was his wife and they were married. 
FOR THE LATEST NEWS UPDATES, DOWNLOAD THE FOX 26 NEWS APP
Authorities said the suspect did have an appointment at the building and the two came together.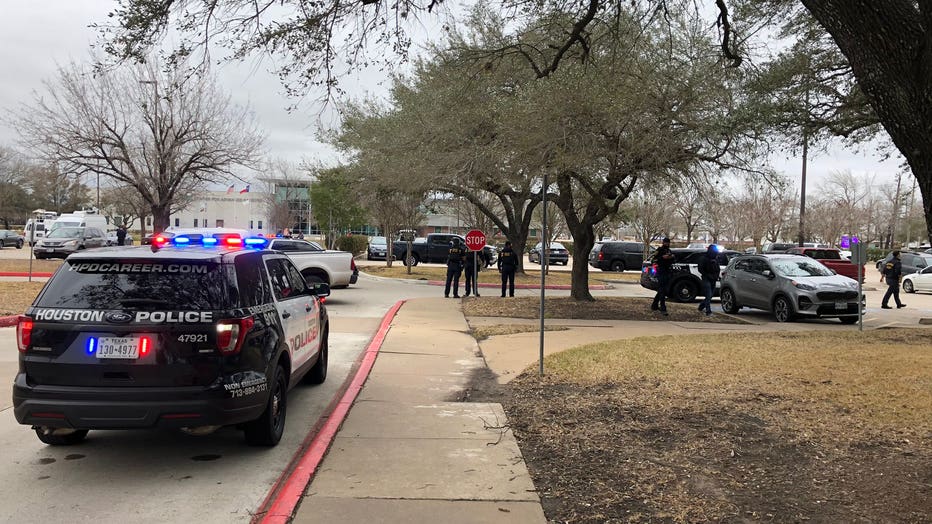 Photo of the scene at a medical facility in West Houston. (Houston Police Department/Twitter)
Witnesses told police that the suspect seemed agitated at one point saying, "I'm going to kill you. I want you to die."
That's when, the suspect pulled his wife by the shirt, she pushed him back, and ran out of the office, police said. The suspect then turned and shot his wife in the office room with him.
Baimbridge said the suspect did have two pistols, one in each hand, and he shot with both of them. 
The woman was taken to Memorial Hermann where she is currently listed in stable condition. 
SIGN UP FOR FOX 26 HOUSTON EMAIL ALERTS
Baimbridge added that at one point the suspect was heard speaking Mandarin during the incident. 
"I think it's tragic," said Baimbridge. "Like we've said before, 50% of our aggravated assault incidents in Houston right now and really across the nation, if you're looking at these numbers, they're domestic violence-related. And it becomes very difficult for us to do something to intervene because a lot of this is behind closed doors. We are really encouraging everyone, especially right now with the additional stressors that's on everybody regarding COVID and losing their jobs and so forth, to reach out and talk to one another. Check on each other. If you have a family member that is in a marriage that has some volatile domestic violence situations, talk to them, stay engaged. I'm not saying that people should divorce and break up, but if you have to get away to save your life, you need to do that. Look at the past, unless there's intervention, usually it keeps getting worse and worse."    
The investigation is ongoing.