Rainfall totals last 24 hours and bayou conditions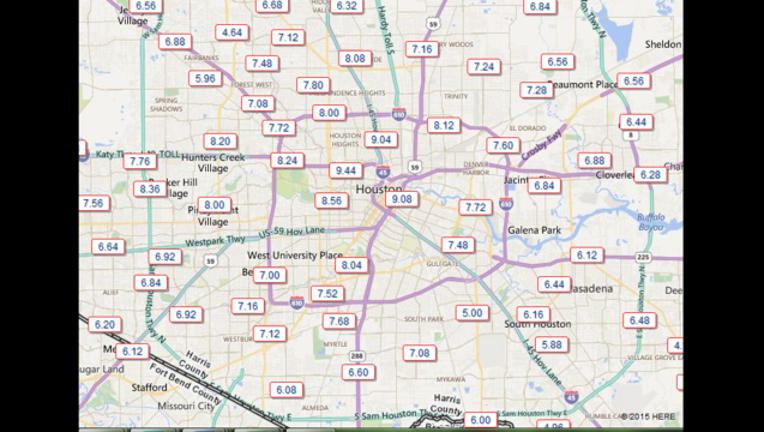 HOUSTON (FOX26) - Bayou update from Harris County Flood Control
Persistent rainfall has resulted in rainfall amounts of 4-9 inches throughout Harris County since mid-morning Saturday. The rain gage on White Oak Bayou at Heights Boulevard registered the highest rainfall amount at 9.2 inches. That channel went out of banks overnight, but crested and dropped 2-3 feet in the past few hours.
Brays Bayou also made it through the storm with few impacts. The bayou went out of banks at Lawndale for a few hours, but is back within its banks. The bayou was high near neighborhoods that were affected during the Memorial Day storm, but remained within banks and is falling in that area of southwest Houston.
Several streets and roadways are still flooding throughout the county, and many will continue to hold water until bayous and creeks recede. Residents are urged to avoid roads with high water and to drive cautiously while going about their business Sunday.
The Harris County Flood Control District's Flood Watch team is monitoring rainfall rates and bayou levels at the Harris County Office of Homeland Security and Emergency Management, along with other emergency management partner agencies.
An update on bayous and creeks that Flood Control District officials are watching closely (as of 6:30 am):
The following are out of banks:
·         South Mayde Creek in west Harris County near Interstate 10 and Greenhouse Road
·         Cypress Creek at Cypresswood Drive in north Harris County
·         Taylors Bayou at Shore Acres Boulevard east of SH 146 in far southeast Harris County
The following are near bankfull, but falling:
·         Buffalo Bayou at Shepherd Drive near downtown Houston
·         Buffalo Bayou at Milam Street in downtown Houston
·         Brays Bayou at Lawndale in southeast Houston
·         Hunting Bayou at Lockwood Drive in east Houston
·         Halls Bayou at Jensen in northeast Houston
·         Armand Bayou at Genoa-Red Bluff in southeast Harris County
·         Clear Creek at Interstate 45 in south Harris County
·         Clear Creek at Mykawa on the south Beltway 8
·         Clear Creek at FM 528 near Friendswood
·         Clear Creek at Bay Area Boulevard in south Harris County
·         Cedar Bayou near SH 146 in far east Harris County
All other Harris County bayous and creeks are responding, but remain within banks.
The Flood Control District's Flood Watch team will continue to monitor rainfall trends and check the gages that measure rainfall amounts and water levels in bayous and creeks. The team constantly monitors the data and works during severe weather events to advise the public and local officials of areas that are and could be affected by flooding.