Pressure builds on Paul Ryan to run for House speaker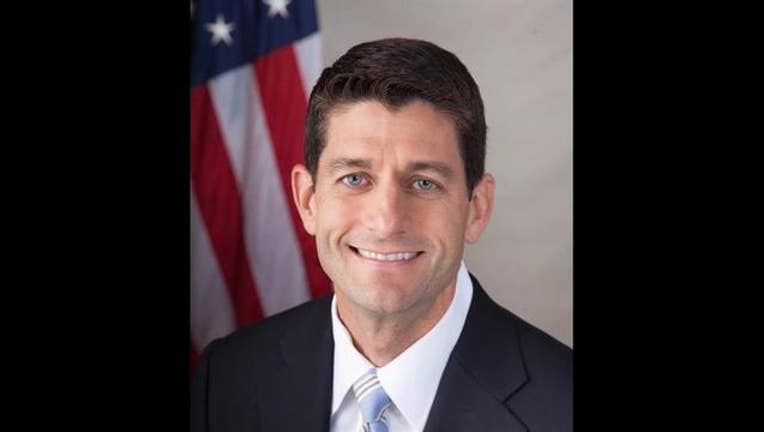 article
WASHINGTON (AP) — The pressure is on Rep. Paul Ryan, the GOP vice presidential nominee in 2012, to run for House speaker in the chaotic aftermath of Majority Leader Kevin McCarthy's sudden decision to abandon his campaign for the post.
"I've talked with Paul Ryan. He's talking to people. I think he'd make a great speaker," McCarthy, R-Calif., said Friday morning as he entered a closed-door Republican meeting. "It's a big decision. He's got to talk to his wife and everybody else, and it's got to be his decision."
Ryan has insisted he's not interested in the post, preferring to focus on his chairmanship of the Ways and Means Committee. In addition, any presidential aspirations the 45-year-old Wisconsin lawmaker might have could be undercut by holding the chamber's top job and managing its unruly caucus.
Being speaker also calls for frequent travel to raise money for the GOP, a challenge for a lawmaker like Ryan with a young family back home.
Republicans met Friday morning to discuss their next move, and even before that session several potential candidates for the top post surfaced. But lawmakers said nothing was decided at Friday's gathering.
"The consensus is to give it a little time," said Rep. John Mica, R-Fla.
With Republicans acting more like feuding relatives than a unified party, departing House Speaker John Boehner and McCarthy were pressing Ryan to seek the job. Boehner also told the conference that he is intent on holding elections for speaker at the end of the month.
Ryan said he was uninterested but did not reject the idea outright when he entered Friday's conference. "I have nothing new to say," Ryan said.
Even Rep. Jason Chaffetz, R-Utah, himself a candidate for the speaker's post, said he'd back Ryan should he seek the job, adding, "I would hope that he would do it."
Added Rep. Lynn Westmoreland, R-Ga., also a potential contender for the job: "I think he's the only guy who can unite us right now."
The GOP-run Congress is hurtling toward showdowns with President Barack Obama over spending and borrowing. If not resolved, those faceoffs could result in a partial government shutdown or an unprecedented federal default.
Boehner and Senate Majority Leader Mitch McConnell, R-Ky., believe either scenario would severely wound GOP prospects in next year's presidential and congressional elections. Some conservatives seem eager to use the confrontations to dare Obama to veto GOP priorities like cutting government spending and halting federal payments to Planned Parenthood.
On Thursday, Republicans were aghast when McCarthy told them he wouldn't seek the speakership.
Facing opposition from a band of hard-right conservatives, some McCarthy supporters said he concluded he would have fallen short of the 218 votes needed when the full House formally elects the speaker. Others said he could have won but GOP lawmakers backing him would have infuriated conservative constituents back home, jeopardizing their own careers.
The group of 30 to 40 conservatives, called the House Freedom Caucus, considered McCarthy too close to Boehner, whose leadership team had punished some conservatives by removing them from committees.
Boehner, an Ohio Republican, delivered his own shocker on Sept. 25 when he said he would retire from Congress Oct. 30.
"Two people now have taken themselves out of the running," said Rep. Ileana Ros-Lehtinen, R-Fla. "And I hope we will have a candidate who can lift up our party."
Boehner said he would remain in his job until a new speaker was installed, an ironic consequence considering conservatives' desire to shove him out the door. That election was set for Oct. 29, but its date is now uncertain.
Attempting to calm the waters, 19 Republicans including several committee chairs wrote GOP lawmakers that they shouldn't pick a speaker until agreeing on "a shared set of goals and governing vision that benefits the nation and our constituents."
Neither of McCarthy's two rivals for the post, Chaffetz and Daniel Webster of Florida, had broad backing among the House's 247 Republicans.
After McCarthy revealed his decision to his colleagues — standing beside his wife, Judy — the five-term lawmaker told reporters, "If we are going to be strong, we've got to be 100 percent united."
___
Eds: Corrects Westmoreland's home state to Georgia, not Florida.
Associated Press writers Erica Werner, Andrew Taylor, Mary Clare Jalonick, Deb Riechmann and Matt Daly contributed to this report.