Police: Mother abandons 2 children in Houston-area for almost seven weeks, now wanted for abandonment
MONTGOMERY COUNTY, Texas - Authorities are searching for one mother, who is accused of leaving her two children alone for almost seven weeks. 
Officials with the Roman Forest Police Department in Montgomery County are looking for Raven Yates, who is now wanted for abandon/endanger child without intent to return. 
SUGGESTED: Missing Elizabeth Labeaf: Houston girl, 16, last seen Wednesday
Officials said that on Nov. 14, 2022, a concerned father contacted authorities that his 12-year-old daughter had been home alone with her 3-year-old brother since Sept. 28, 2022, much of the time without access to food or medical supplies. 
The father, who lived out of state, immediately flew in from California where he had been working at the time. 
Police said the father learned that Yates had been seen in Mobile, Alabama, because he had been asked by his daughter to send food regularly.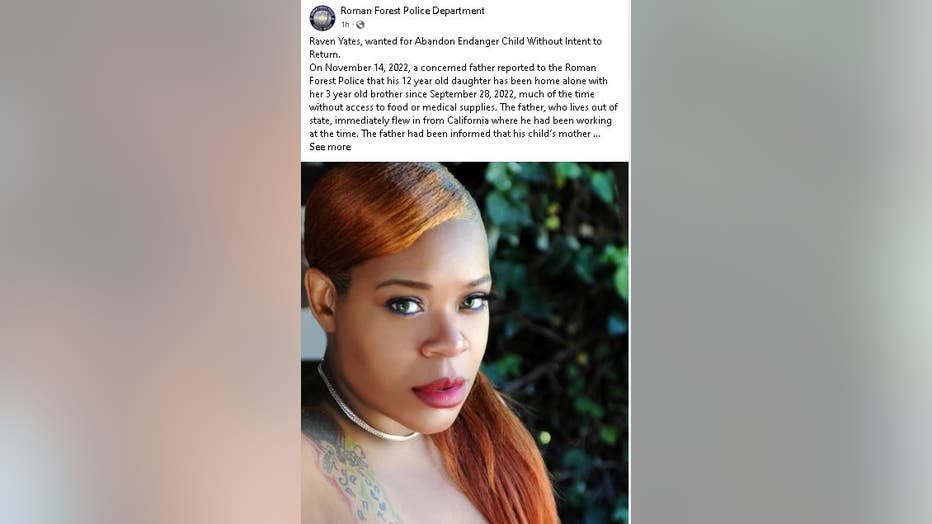 The Roman Forest Police Department released a photo of the mother on their social media page on Thursday. 
The children are said to not be registered in school and had been left at home along from September 28 to November 14, almost seven full weeks. 
Fox 26's Sherman Desselle contacted Yates through a number listed on her Instagram page. "He's trying to kill me," typed Yates, referring to her children's father and ex-husband. Among other accusations made against the father, she also said that she hired a nanny for the children while she was away, and she had to take care of her father who was on life support." 
"My daughter even had access (to) thousands of dollars to do and buy whatever!" types the woman. We offered an interview opportunity through zoom, but Yates declined. 
An arrest warrant has been issued for Raven Yates for two counts of abandon/endanger child without intent to return. 
Police believe the mother is in the Mobile, Alabama area.
The two children are currently safe with a family member in Alabama. 
If you have seen Yates or know where she is, contact the Roman Forest Police Department.