Pearland little league wins opener at Regional Tourney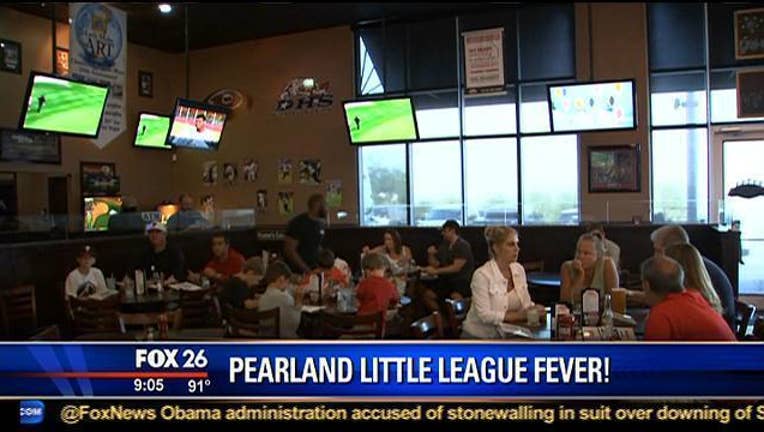 article
One might wonder what's in the water in Pearland?  "It's just a baseball town," said Mary Lou Duke.  Yet another little league team from there is playing on the national stage.  "They're superstars," said one fan at a watch party.  Addison Parker, 12, knows most of the team. "They're accomplishing a lot of stuff that not a lot of kids have the opportunity to do."
Fans gathered at Stadia Sports Grill in Pearland Town Center to cheer on the Pearland West All-stars in the opening game of the Southwest Regional Tournament in Waco against a team from Pine Bluff, Arkansas.  "They play so hard, and they practice so much, it's just so awesome," said Duke.
The winner of the week long, 8-team tournament advances to the Little League World Series in Williamsport, Pennsylvania.  "Exciting but nerve racking considering what's at stake," said Craig Dillehay.  He's coached several of the kids on the all-star team in the past.   "Yeah, surreal is the best way to put it," he said.
Just last year another Pearland all-star team made it to the World Series.  It happened in 2010 too.  So what's the secret sauce?  "Family is number one, we all support each other's families, support each other's kids," said Melissa Clemente. 
After trailing much of the game, Pearland, called Texas East in the tournament, came back to force extra innings.  They blew the game open with a pair of 2-run home runs in the 7th and go on to win the opener 8-4 the final score. 
They'll play again in the winner's bracket Sunday night.  Stadia Sports Grill donated 20% of food sales Friday night to the team.