Man shot in head during 'gun battle' outside Airbnb party in east downtown Houston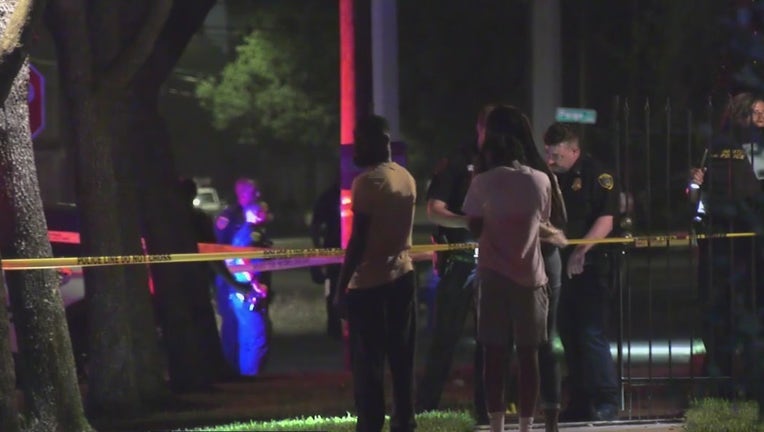 HOUSTON - A man was shot in the head during a gunfight outside a party at an Airbnb in Houston's EaDo.
Houston police say they received a shooting call around 10:45 p.m. Sunday in the 2700 block of Delano near Dallas St.
RELATED: 7-year-old shot, killed in drive-by shooting at east Harris County home
When the officers arrived, they found an unidentified man, 22, who had been shot in the head. Preliminary details released Wednesday from officers is a vehicle, described only as a gray SUV was seen driving through the area before several gunshots were fired, hitting the unidentified man.  
He was taken to the hospital in critical but stable condition. However, authorities confirmed the victim succumbed to his injuries and passed away Tuesday.
HPD says they found evidence of a "gun battle" outside the Airbnb. They believe there were multiple shooters due to the multiple caliber ammunition found on the ground.
Officers also believe there was a gun battle inside the Airbnb.
CLICK HERE FOR CRIME & PUBLIC SAFETY
HPD says there was a graduation party at the Airbnb, and they found 15 to 20 young adults found in the area.
One person was detained in the incident, but at last check, there was not enough information to determine whether he is a suspect. 
In a statement to FOX 26, Airbnb said, "Our policies ban both parties and "party houses," and we join the community in condemning this criminal gun violence. Our Safety team is actively investigating, and we also stand ready to support the Houston Police Department."
They added the homeowner also specifically bans parties in this home, and this was an unauthorized party thrown without the Host's knowledge or consent.
Airbnb added the address had only been on its platform since April with only a couple of reservations beforehand. 
HPD's Major Assaults Unit and the Crime Scene Unit are conducting the investigation and looking through surveillance footage of the area. They're also making sure no one else was injured in the gunfight.