Jet crashes near Houston after decades of service
WALLER COUNTY, Texas - The jet that crashed at Waller County's Houston Executive Airport was built more than 30 years ago and was being used for executive and leisure travel. 
The plane was an MD-87, which is a version of the old DC-9 passenger jet that was once popular. It had done a lot of traveling before it burst into flames at the end of the runway.
RELATED: Texas plane crash latest: Plane was headed to Boston; all onboard survive, 2 hospitalized

Online databases that track aircraft histories have already noted this crash, as a total loss.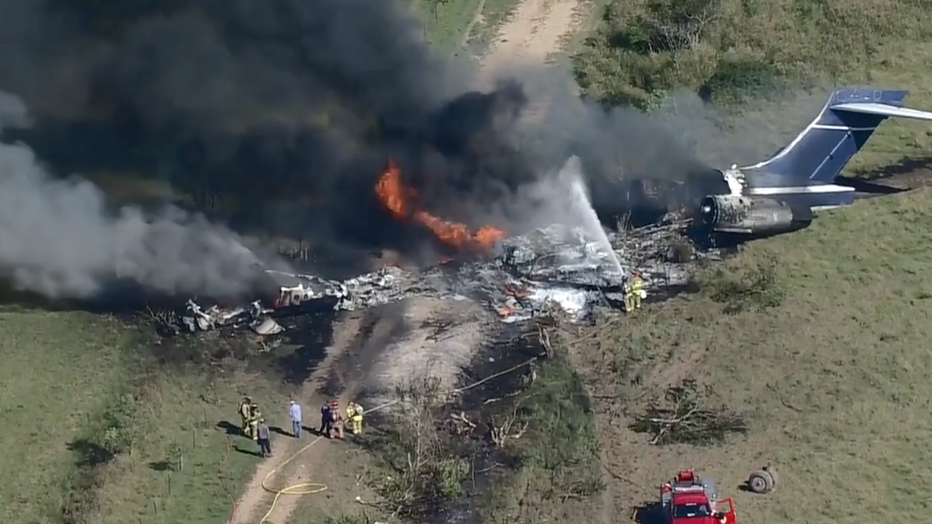 The MD-87 was last purchased in 2015 by Houston-area developer and luxury home builder J. Alan Kent. The Houston Rodeo lifetime vice-president was among the 21 people aboard the ill-fated flight, that saw everyone survive.
Pictures from a sales flyer show it was configured with leather chairs and sofas to transport a couple of dozen people in luxury.

Built in 1987, it was one of nearly 2,000 MD-80 variant jets that were built by McDonnell Douglas between 1979 and 1999. It previously saw duty as a passenger jet for Finnair and AeroMexico. The FAA reports there were just a dozen MD-87's registered to fly, before this incident.
DOWNLOAD THE FOX 26 APP FOR THE LATEST ALERTS

An online search does not show any significant mechanical problems with this jet, but the NTSB is investigating the cause, as it does with all such incidents.

Meantime, the Houston Rodeo tells FOX 26 they are relieved everyone is safe. J. Alan Kent's daughter says, by phone, the family is "Grateful to God" that everyone survived, and that they'll make a public statement after they've had time to process what happened.