Humble ISD: Man offered 5th grade girl candy to get in van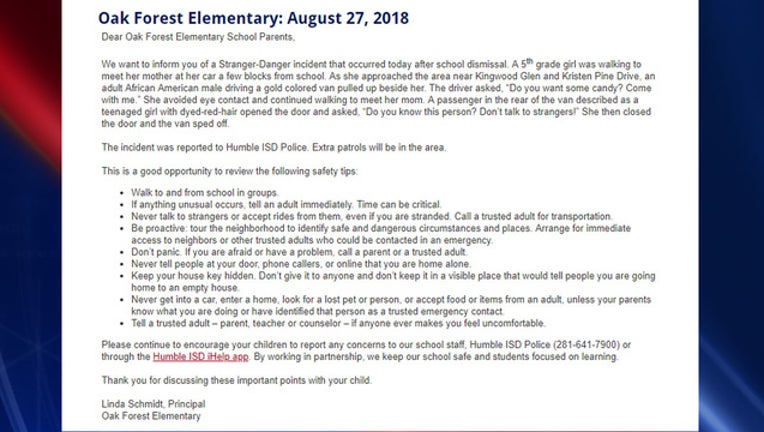 article
Humble ISD officials say a 5th grade girl walking near Oak Forest Elementary after school was approached by a man in a van who offered her candy if she would get inside.
In a letter alerting parents of the "stranger danger" incident, the district says the girl was walking to meet her mother at her car a few blocks from school when a man in a gold van pulled up beside her near Kingwood Glen and Kristen Pine Drive. 
According to the letter, the driver asked, "Do you want some candy? Come with me." She avoided eye contact and continued walking toward her mother's car.
The district says that's when a passenger in the rear of the van, described as a teen girl with dyed-red hair, opened the door and asked the girl, "Do you know this person? Don't talk to strangers!" before the van sped away.
The incident has been reported to Humble ISD police and extra patrols will be in the area, the district says.
"Please continue to encourage your children to report any concerns to our school staff, Humble ISD Police (281-641-7900) or through the Humble ISD iHelp app. By working in partnership, we keep our school safe and students focused on learning," the letter says.
The letter also shares these safety tips with parents and students:
Walk to and from school in groups.
If anything unusual occurs, tell an adult immediately. Time can be critical.
Never talk to strangers or accept rides from them, even if you are stranded. Call a trusted adult for transportation.
Be proactive: tour the neighborhood to identify safe and dangerous circumstances and places. Arrange for immediate access to neighbors or other trusted adults who could be contacted in an emergency.
Don't panic. If you are afraid or have a problem, call a parent or a trusted adult.
Never tell people at your door, phone callers, or online that you are home alone.
Keep your house key hidden. Don't give it to anyone and don't keep it in a visible place that would tell people you are going home to an empty house.
Never get into a car, enter a home, look for a lost pet or person, or accept food or items from an adult, unless your parents know what you are doing or have identified that person as a trusted emergency contact.
Tell a trusted adult – parent, teacher or counselor – if anyone ever makes you feel uncomfortable.