HPD announces safe havens for citizen property exchanges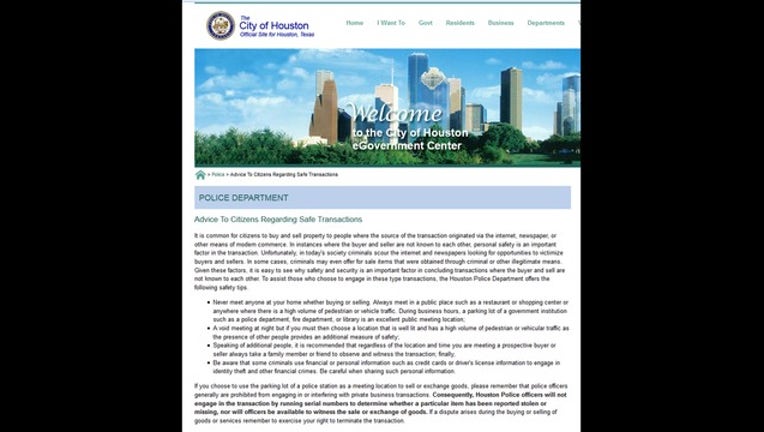 article
HOUSTON - Residents may now utilize Houston Police Department parking lots as meeting locations for property exchange transactions.  This is meant to provide residents with some measure of comfort and security for sales and purchases originated via the Internet, newspaper or some other means where the buyer and seller don't know each other.

"Unfortunately, in today's electronic age, criminals scour the Internet and newspapers in search of opportunities to victimize buyers and sellers for criminal gain," said Police Chief Charles McClelland.  "In some cases, criminals may even offer for sale items obtained through criminal or other illegitimate means.  Given these factors, it is easy to see why safety and security are important to anyone who sells or purchases goods this way."

"I'm glad to see HPD has put this new policy in place," said City Council Member Ed Gonzalez, who initially presented the idea to Chief McClelland.  "It is another example of how HPD is concerned about making sure our residents are safe."

HPD cautions that even though this is meant to provide some level of comfort and security, police officers and other department employees are prohibited from engaging in or interfering in private business matters.  Officers will not aid in the transaction by running serial numbers to determine whether an item has been reported stolen or missing, nor will officers be available to witness the sale or exchange of goods.  Residents may not utilize police facility parking lots on a repeat basis and they are not allowed to erect structures or signs indicating any type of business purpose.

More information and tips for conducting safe transactions is available at http://houstontx.gov/police/safe-transactions.htm.