Gov. Abbott March Madness bracket, predicts Alabama to win it all against Houston
HOUSTON - The NCAA Tournament has begun and everyone's making their brackets to see who they think will advance till the end, including the Texas Governor.
Gov. Greg Abbott is throwing out his probability on who will win it all for March Madness and many are surprised he didn't choose a Texas team as his winner.
SUGGESTED: University of Houston Cougars preparing for first-round NCAA Tournament game in Birmingham, AL
The governor chose Alabama, Houston, Duke, and Kansas as his semifinal teams, with Alabama and Houston going to the Finals to play it out.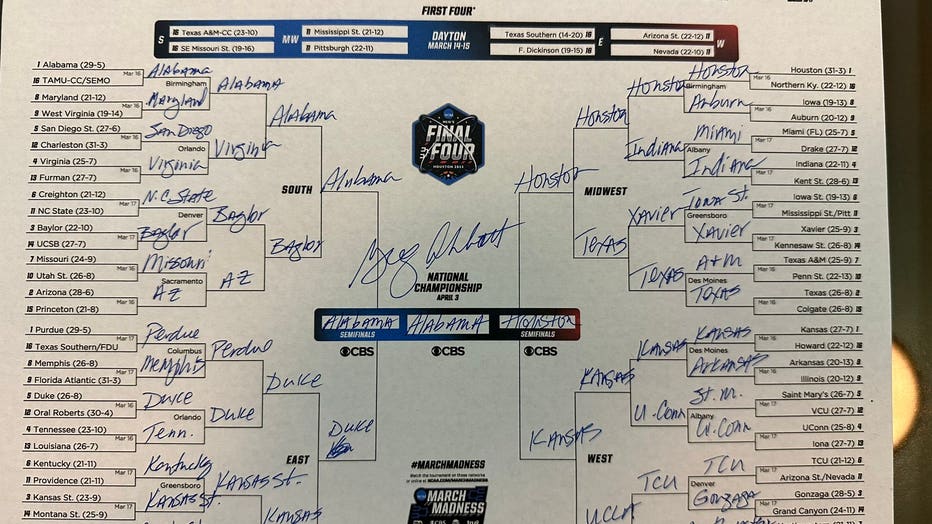 Governor Abbott's March Madness bracket (Photo courtesy of Governor Greg Abbott via Twitter
However, instead of choosing the Houston, Texas team, Abbott decided Alabama would take home the trophy.
In regards to the other Texas teams, Abbott predicted TCU would make it as far as the Sweet 16, before coming up short against UCLA. Texas A&M is predicted to lose against Texas Longhorns in the Second Round, while the Longhorns themselves go on to the Elite 8.
RELATED: March Madness 2023: Alabama, Houston, Kansas, Purdue named 1 seeds heading into tourney
Abbott's bracket has the Longhorns going up against Houston in the Elite 8, but he has the team being defeated by the Cougars.