Freshman QB suspended for "inappropriately touching" center while getting snaps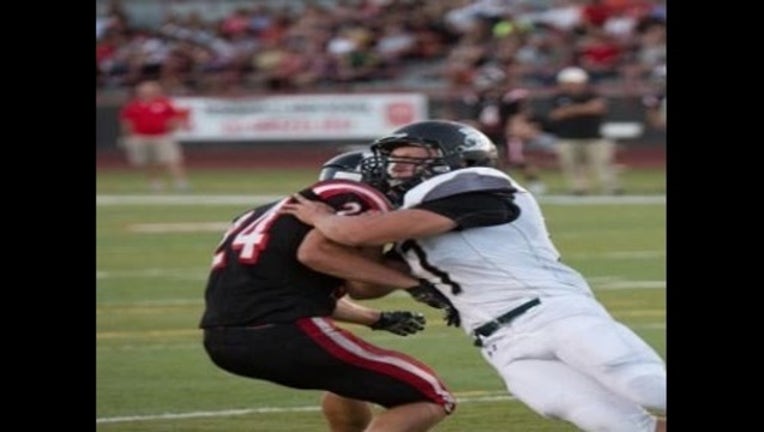 article
FOX 26 - Freshman quarterback Garrett Moore of West Salem High School has been suspended from school because l officials said he "inappropriately touched" another player during football practice.
Moore said it happened when he was taking a snap from a center. West Salem principal Ken Phillips declined to discuss the specifics of the situation. The incident in question occurred in practice
Moore said he was instructed by a coach to take a snap under center, which is when the quarterback has the ball handed to him from the center.
Centers snap the ball from the ground between their legs for the quarterback to grab. To take the ball, quarterbacks must place their hands between the center's legs and up against the crotch.
The center was a player with whom he had problems, including the player pushing him to the ground earlier in practice.
He said the center instructed him to take the snap farther forward in his stance than he had with other centers.
"He wanted me to go way up there and it felt very uncomfortable," Moore said. "I was, like, moving my hands and I touched him and he started laughing. I guess I tickled him. I wouldn't mean to. That's kind of weird."
He says the center moved to the defensive line after a few plays and the regular center came back. The group ran a play and the player who had previously played center walked toward him after the play.
"He acted like he was giving me a hug and he kneed me in my crotch," Moore said. "He said that he did that because I spat on his shoe, even though he was five feet in front of me."
Moore said he was on the ground from the pain and assistant coach John Witherspoon came over to check on him, so he told Witherspoon what had happened.
"And he huddles everyone up, he explains how deadly that stuff is, that you can die from internal bleeding," Moore said.
Moore said he recovered enough to run conditioning laps with the team at the end of practice.
School officials would not say whether the other player was disciplined for striking Moore.
While Moore was in his first period class on Oct. 6, he was called into the office of assistant principal Jim Miller to discuss what Moore describes as ongoing problems with other teammates.
Moore said he told Miller about the altercation at practice and Miller sent him back to class. Moore said the other boy was called to the office and gave a different version of the story.
Moore was again called to Miller's office and this time escorted by a security guard. Moore said Miller asked if he had tickled the other boy while taking the snap in practice.
"I'm like, 'I guess,' " Moore said. "He was laughing when I touched him. I didn't mean to say tickle. I said tickle because he laughed.
"He calls my mom, makes it sound like I'm a complete pervert and she comes to get me."
Tamara Moore said that when she was called to the school she met with Miller, athletic director Bill Wittman and Phillips about her son being suspended.
"I said, 'This sounds absolutely absurd,' " Tamara Moore said.
Moore was sent home with the reason on a written referral as "Student inappropriately touched another student during football practice."
Phillips said students that are suspended aren't allowed to take part in activities so Moore won't be allowed to be at school or at games until Oct. 12, though he will be allowed to make up his school work without penalty.
He said suspensions such as Moore's can be appealed to Salem-Keizer Director of High Schools Larry Ramirez. Tamara Moore said she intends to appeal.