Florence flooding causes collapse of coal ash landfill, brings concern for sewage spills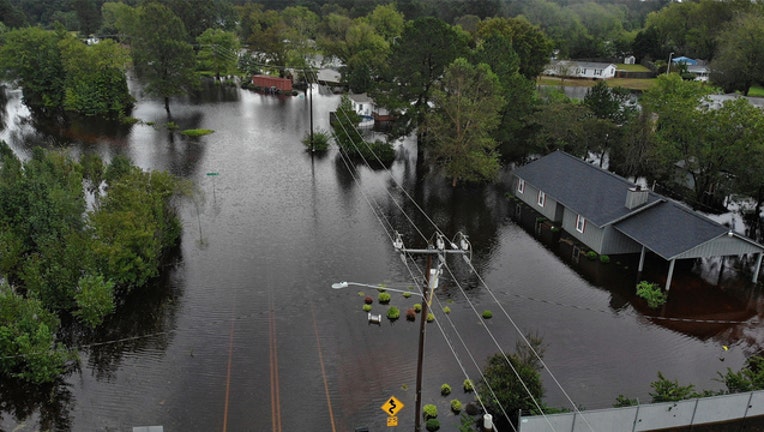 article
WILMINGTON ,NC (AP) - As rain from Florence continued to lash the Carolinas, the region's swollen rivers were beginning to swamp coal ash dumps and low-lying hog farms Sunday, raising pollution concerns.
Duke Energy said the collapse of a coal ash landfill at the L.V. Sutton Power Station near Wilmington, North Carolina, is an "on-going situation," with an unknown amount of potentially contaminated storm water flowing into a nearby lake. At a different power plant near Goldsboro, three old coal ash dumps capped with soil were inundated by the Neuse River.
An Associated Press photographer who flew over eastern North Carolina on Sunday saw several flooded hog farms along the Trent River. It wasn't immediately clear if any animals remained inside the long metal buildings ringed by dark water.
Such farms typically have large pits filled with hog urine and feces that can cause significant water contamination if breached or overtopped by floodwaters. State environmental regulators said Sunday they had not yet received any reports of spills.
An AP analysis of location data from hog waste disposal permits shows there are at least 45 active North Carolina farms located in 100-year and 500-year floodplains at risk of being inundated by nearby streams and rivers.
Federal forecasters predicted several rivers would crest at record or near-record levels by Monday, with high water potentially remaining for days. Officials with the N.C. Park Council, and industry trade group, said farmers had prepared for the storm by lowering water levels in their waste ponds and moving animals to higher ground.
At the Sutton plant, Duke spokeswoman Paige Sheehan said Sunday that a full assessment of how much ash escaped from the water-slogged landfill can't occur until the rain stops. She said there was no indication that contaminants from Sutton Lake had drained into the nearby Cape Fear River.
"We think the majority of the ash is settling out before it gets to the lake," Sheehan said. "We believe the chances are minimal that coal ash constituents will make it to the Cape Fear."
The company initially estimated Saturday that about 2,000 cubic yards (1,530 cubic meters) of ash were displaced at the landfill, enough to fill about 180 dump trucks. Sheehan said Sunday that estimate could be revised after further scrutiny.
The coal-fired Sutton plant was retired in 2013 and the company has been excavating millions of tons of ash from old waste pits and removing it to safer lined landfills constructed on the property. The gray ash left behind when coal is burned contains toxic heavy metals, including arsenic, lead and mercury.
State environmental regulators said they had been unable to inspect the site of the landfill collapse because of flooded roadways in and around Wilmington.
"There was a failure in the lined landfill" with material moving toward Sutton Lake, said Michael Regan, secretary of the N.C. Department of Environmental Quality. "And so it's imperative that we get our folks on the ground to do some water testing."
Duke's handling of coal ash waste has been under intense scrutiny since a drainage pipe collapsed under a waste pit at an old plant in Eden in 2014, triggering a massive spill that coated 70 miles (110 kilometers) of the Dan River in gray sludge.
In a subsequent settlement with federal regulators, Duke agreed to plead guilty to nine Clean Water Act violations and pay $102 million in fines and restitution for illegally discharging pollution from coal-ash dumps at five North Carolina power plants. The company is working to close all of its coal ash dumps by 2029.
Sheehan said Sunday that three inactive ash basins at the H.F. Lee Power Station near Goldsboro were under water. The old waste pits are capped with soil and vegetation to deter erosion.
During Hurricane Matthew in 2016, floodwaters eroded part of the cap, exposing a small amount of ash that may have flowed into the Neuse River. The Neuse is expected to crest at more than nine feet (3 meters) above flood stage Monday.
At the W. H. Weatherspoon Power Station near Lumberton, flooding from a nearby swamp was flowing into the plant's cooling pond. The Lumber River is expected to crest at more than 12 feet (3.3 meters) above flood stage late Sunday, putting floodwaters near the top of the earthen dike containing the plant's coal ash dump.
Environmentalists have warned for decades that Duke's coal ash ponds were vulnerable to severe storms and could pose a threat to drinking water supplies and public safety.
"Disposing of coal ash close to waterways is hazardous, and Duke Energy compounds the problem by leaving most of its ash in primitive unlined pits filled with water," said Frank Holleman, a senior attorney at the Southern Environmental Law Center.
"In this instance, it appears that Duke Energy has not done enough to ensure that its new Wilmington landfill safely stores coal ash. After this storm, we hope that Duke Energy will commit itself to removing its ash from all its unlined waterfront pits and, if it refuses, that the state of North Carolina will require it to remove the ash from these unlined pits."