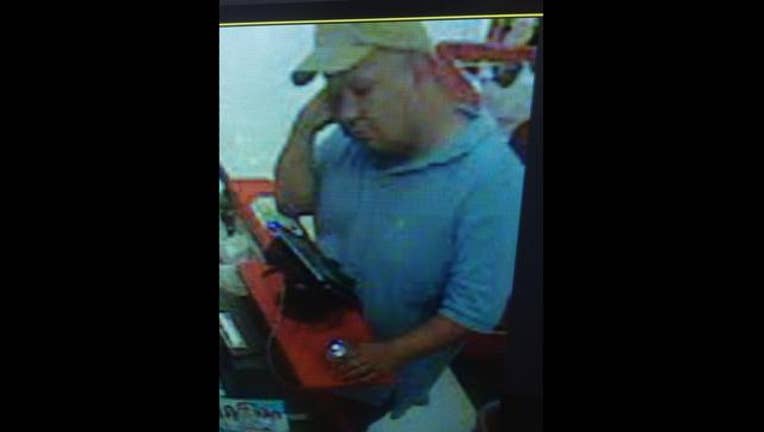 houston - Special Crime Alert!
Fort Bend County Crimes Stoppers, Inc. will pay a cash reward for information leading to the arrest and conviction of the perpetrator involved in several thefts at businesses followed by use of stolen credit cards.
The perpetrator is involved in three incidents in Fort Bend County and one in Harris County.
The perpetrator has entered LA-Fitness or 24-Hour Fitness operations and in most cases, he burglarizes lockers and then steals the victim's vehicles.
In an Aug. 9, 2015 case, the victim contacted the Fort Bend County Sheriff's Office after the perpetrator entered a 24-Hour Fitness business in the Katy area and stole the victim's belongings and then stole his vehicle.
Following the initial theft, the perpetrator used three different credit cards at Galleria's Macy's location for amounts totaling $1,485. At a Target store in the Katy area, the perpetrator used two credit cards for purchases totaling $1,371.
The suspect is Anglo or Hispanic and is about 5-feet, 6-inches tall and weighs about 160 pounds. He appears to be between 40 and 50 years of age and was wearing a blue Polo sports shirt and a light brown baseball cap.
        Information which leads to the apprehension and filing of charges on the suspects involved could earn a cash reward.
All calls to Crime Stoppers are anonymous.   
Fort Bend County Crime Stoppers, Inc.
-          Call (281) 342-TIPS (8477)
-          Send a Text Message:  Text FBCCS plus your tip to CRIMES (274637)
-          Submit Online:  http://www.fortbend.crimestoppersweb.com/
All calls to Crime Stoppers are ANONYMOUS.