Firefighters battle fire at Main Street Market in downtown Houston; 1 taken to hospital
HOUSTON - Firefighters are still spraying hot spots on a downtown Houston building that started burning around 8 a.m. Thursday morning. It happened on Main Street at Walker at Main Street Market. 
One firefighter had to be rushed to the hospital, and two others also almost found themselves in serious trouble. 
The fire has been extremely difficult for firefighters to put out, because the building is so old, and was built without a sprinkler system and outdated fire codes. That allowed the flames to spread quickly through the seven-story structure.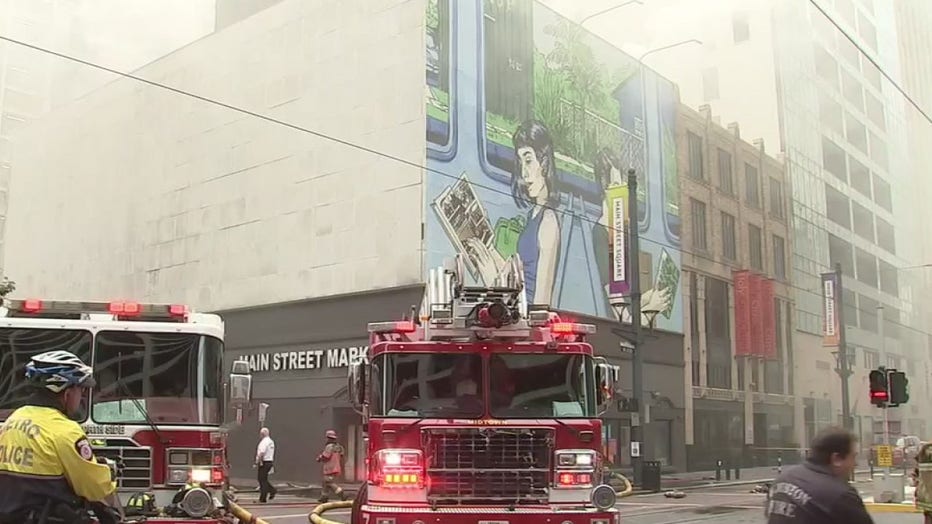 Teams of firefighters fought hard for hours against the fast-moving flames, a fire that seemed to fight back.

"We've had a real challenge with this one," says Houston Fire Department Executive Assistant Chief Richard Mann.

The fire sparked in the basement of the building at 8 a.m. but sent smoke spilling into downtown Houston for hours. In fact, it was well into the afternoon before the flames were under control. 
"This building was built in the 1930s, so it's built under construction codes that are 90 years old. This has been a very stubborn fire for us," adds Chief Mann. 

One firefighter ran out of air inside the burning building but made it to the roof, where he was rescued. Two other firefighters had an alarm on their equipment sound, signaling they may need help as well. 
"A couple close calls today, unfortunately. We had two maydays in the course of this incident," Mann explains.

Finally, firefighters attacked from the top, spraying water into the mechanical chase, a large enclosed opening that usually hides wires or pipes that often run from the basement to the attic, which was allowing this three-alarm fire to travel between floors.

"Hopefully it didn't spread to the church. That's where I go to church," says Houstonian Earnest Duran. 

It doesn't appear that any other buildings were burned. The entire block was evacuated but a number of Houston residents stood outside the barricade reminiscing, remembering a time a structure seven stories high was quite a sight to see. 
"When I was 7, 8 years old I used to come downtown and watch a lot of these buildings go up," adds Duran. 

Chief Mann says early indications point to perhaps electrical wiring causing the fire but the investigation into the cause is continuing.

Roads were closed for a two-block radius, so METRO Light Rail did not run through the area of Main at Walker all day because of the fire. HFD expects the roads will continue to be closed and they will be tending to the building at least until sunset.