Election 2020: Lawsuits filed, recounts requested by Trump campaign — here's where they stand
WASHINGTON - President Donald Trump's campaign has filed a barrage of lawsuits amid President-elect Joe Biden's win — leveling, without proof, accusations of large-scale voter fraud in states that broke for Biden.
Experts say the effort faced long odds given the Electoral College tally and recent court rulings that found no evidence of widespread vote fraud in battleground states.
Across the country, election officials from both parties say the 2020 election unfolded smoothly and there has been no conspiracy.
RELATED: 2020 election was 'most secure in American history', according to CISA committees
In fact, election experts said the large increase in advance voting — 107 million people voting early in person and by mail — helped take pressure off Election Day operations. There were also no incidents of violence at the polls or voter intimidation.
Biden was projected by the Associated Press and FOX News as the 46th president of the United States on Nov. 7 after claiming the key battleground state of Pennsylvania, pushing him well past the needed 270 Electoral College votes to win the White House.
Biden has claimed a total of 306 votes to Trump's 232, according to projections by FOX News and the AP.
Biden's transition process as president-elect had been stalled amid Trump's resistance to acknowledging the outcome of the race. But on Nov. 23, the federal government officially recognized Biden as the "apparent winner" of the election. The go-ahead by the General Services Administration formally starts the transition of power.
Still, Trump has refused to concede his loss to Biden, and argued without evidence that the results will be overturned.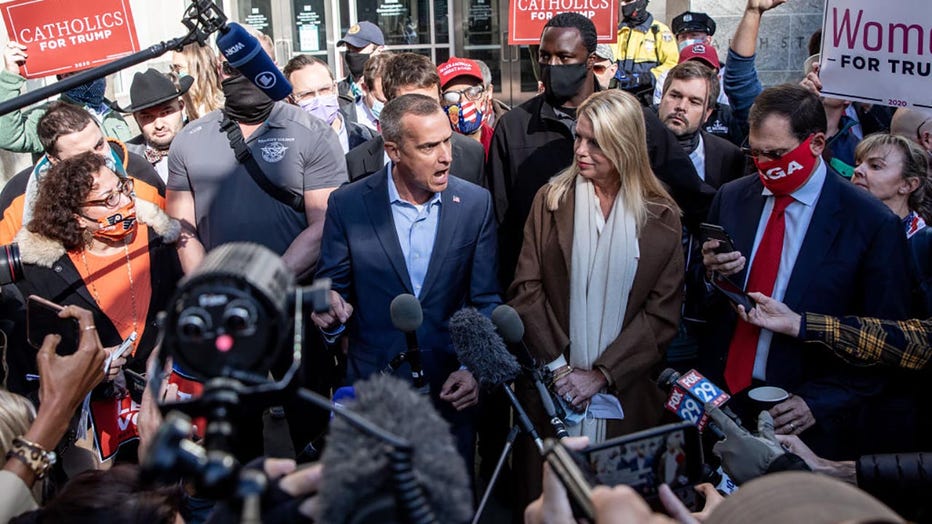 Former campaign adviser of U.S. President Donald Trump, Corey Lewandowski (L) and former Florida Attorney General Pam Bondi speak to the media about a court order giving President Trump's campaign access to observe vote counting operations on Nov. 5,
Studies have repeatedly shown that voter fraud is exceptionally rare, and when it does happen, people are generally caught and prosecuted and it does not change the outcome of the election. Typically, it involves someone wanting to honor the wishes of a loved one who recently died and either knowingly or not commits a crime by filling out that ballot.
Long before a single ballot was cast in the 2020 presidential election, Trump raised, without evidence, questions about the integrity of the election and railed against mail voting despite a long history of mail ballots being used successfully in the country. At one point, he falsely claimed the only way he could lose was if the election were rigged.
Some states that expanded mail-in voting to make it safer to cast a ballot during the virus outbreak lean Republican and voted for Trump — Nebraska, North Dakota and Montana. He has raised no concerns about the results there.
Trump is running out of time to have his legal cases heard. The Electoral College is scheduled to meet on Dec. 14 and Congress is to count the votes on Jan. 6.
RELATED: What happens at the Electoral College meeting?
Prior to Election Day, there were also hundreds of lawsuits filed by both sides, dealing with changes to how the election was going to work because of the COVID-19 pandemic. Some of them were still live on Nov. 3, but most were sorted out.
Here is a look at the lawsuits that have been filed and recounts that have been requested related to the 2020 presidential race since Election Day:
Trump lawsuits in Michigan
On Nov. 24, Michigan election officials certified Biden's 154,000-vote victory in the state. The Board of State Canvassers, which has two Republicans and two Democrats, confirmed the results on a 3-0 vote with one GOP abstention.
Under state law, Biden claims all 16 electoral votes. Biden won by 2.8 percentage points — a larger margin than in other states where Trump is contesting the results like Georgia, Arizona, Wisconsin and Pennsylvania.
Trump and his lawyers had filed a federal lawsuit on Nov. 11 in Michigan against Wayne County and Secretary of State Jocelyn Benson, claiming irregularities, incompetence, and unlawful vote counting. In Wayne County, Biden received more than 330,000 votes over Trump.
Trump had wanted the state to hold off on certifying the election until it was verified that the votes were cast legally.
The Wayne County board of canvassers moved to certify the vote on Nov. 17 after a contentious vote. GOP canvassers first blocked the certification for hours before reversing the move.
The Trump campaign dropped its case Nov. 19, citing statements from the Republican Wayne County canvassers who initially blocked certification of election results before approving them. The two canvassers now say they want to change their position again, but officials say there's no way for them to rescind their vote.
Another lawsuit filed on behalf of two poll challengers asked a court to halt the certification of election results until an independent audit is completed to "ensure the accuracy and integrity of the election." But the lawyers for the two poll challengers later abruptly withdrew the suit with no explanation.
The day after Election Day, the Trump campaign filed a lawsuit to halt Michigan's vote count, claiming it did not have proper access to observing the opening of absentee ballots — which was later dismissed. The Associated Press called Michigan for Biden on the same day.
The suit was filed in the Michigan Court of Claims. The next day, Judge Cynthia Stephens ruled against the campaign after questioning Trump's attorneys over the evidence that she called hearsay.
Poll watchers from both sides were plentiful at one major polling place in question, the TCF Center in Detroit, according to the Associated Press.
Mark Brewer, a former state Democratic Party chairman who was observing the Detroit vote counting as a volunteer lawyer, said he had been at the TCF Center all day on Nov. 4 and had talked with others who had been there the past couple of days. He said Republicans had not been denied access.
"This is the best absentee ballot counting operation that Detroit has ever had. They are counting ballots very efficiently, despite the obstructing tactics of the Republicans," Brewer said.
Another lawsuit in Michigan also sought to halt the certification of election results in Detroit, a Democratic stronghold, and the surrounding Wayne County. But on Nov. 6, Judge Timothy Kenny denied the motion for injunctive relief — ruling that the plaintiffs had made "only a claim but have offered no evidence to support their assertions."
On Nov. 13, Kenny dismissed the lawsuit, saying there were "no sinister fraudulent activities" at the TCF Center on the day ballots were counted.
Separately on Nov. 12, the Trump campaign filed a wide-ranging lawsuit challenging the counting of votes in Wayne County. But according to reports, it was "misfiled" at the U.S. Court of Federal Claims in Washington, D.C., which does not have jurisdiction, and was intended for Western Michigan's U.S. District Court. It was later dismissed by the U.S. Court of Federal Claims.
RELATED: Trump campaign pulls Michigan lawsuit after Wayne County certifies votes
Trump lawsuits in Nevada
The Associated Press and FOX News on Nov. 7 declared Biden the winner of Nevada, and the Nevada Supreme Court made Biden's win in the state official on Nov. 24, approving the state's final canvass of the election.
The unanimous action by the seven nonpartisan justices sends to Democratic Gov. Steve Sisolak results that will deliver six electoral votes to Biden. The former vice president won Nevada by 33,596 votes, according to results approved by elected officials in Nevada's 17 counties — including Clark County, which encompasses Las Vegas, and Washoe County, which includes Reno.
Biden got 50.06% of the vote to Trump's 47.67%.
Prior to the state's vote certification, a Trump campaign attorney declared on Nov. 17 that the Republican president won in Nevada, not Biden, despite results showing otherwise. Certification of the vote does not stop several lawsuits pending in state and federal courts.
"Donald Trump won ... after you account for the fraud and irregularities that occurred," campaign attorney Jesse Binnall told reporters as he announced a new lawsuit asking a state judge to declare Trump the winner or to invalidate the presidential vote results.
The lawsuit, filed Nov. 17 by the Trump campaign in Carson City, rehashed arguments that judges in Nevada and elsewhere have already rejected. It claims that votes were cast on behalf of dead people, that election observers weren't allowed to witness "key points" of processing and that people on American Indian territories were illegally given incentives to vote.
The suit was assigned to Judge James Wilson Jr., who last month rejected Binnall's bid on behalf of the Trump campaign and state Republican Party to halt the count of mailed ballots received in and around Las Vegas — a Democratic stronghold in an otherwise predominantly GOP state.
Wilson ruled that neither the state nor Clark County did anything to give one vote preference over another. Binnall appealed to the Nevada Supreme Court, but dropped that effort before ballot counting ended last week.
In a separate court filing on Nov. 20, a voting watchdog group led by a conservative former state lawmaker wanted a judge to block statewide certification of the election.
The Election Integrity Project, a group with right-wing ties, claimed voter fraud and alleged members found nearly 1,400 people who registered to vote in Nevada, moved to California, then voted in Nevada. 
The judge disagreed with the contention that the election results shouldn't be certified, saying there were ways of handling fraud, but they don't include throwing out an election. 
RELATED: Trump campaign announces federal lawsuit in Nevada
Trump lawsuits in Pennsylvania
Biden was certified as the winner of the presidential race in Pennsylvania with an 80,555 vote lead in a culmination of three weeks of vote counting in the state.
According to the Philadelphia Inquirer, on Nov. 28, the state supreme court tossed out a lawsuit filed by U.S. Rep. Mike Kelly and seven other republicans. They sought to throw away mailed-in ballots or have the state decide the election saying a 2019 "no-excuse" mail voting was unconstitutional and "illegally implemented." The justices agreed that the group waited too long to bring forth their lawsuit and should've been brought shortly after the bill passed.
On Nov. 27, the U.S. Court of Appeals for the Third Circuit court in Philadelphia rejected the latest appeal by the Trump Campaign to challenge the 2020 election results. The federal appeals court echoed other courts, which have found no evidence of election fraud, and said "the campaign's claims have no merit."
"Free, fair elections are the lifeblood of our democracy. Charges of unfairness are serious. But calling an election unfair does not make it so. Charges require specific allegations and then proof. We have neither here," Judge Stephanos Bibas, a Trump appointee, wrote for the three-judge panel.
The case had been argued in a lower court by Trump lawyer Rudy Giuliani, but Giuliani failed to offer any tangible proof of that in court, according to the Associated Press.
U.S. District Judge Matthew Brann had said the campaign's error-filled complaint, "like Frankenstein's Monster, has been haphazardly stitched together" and denied Giuliani the right to amend it for a second time, the Associated Press reported.
The 3rd Circuit called that decision justified, citing that the number of ballots the lawsuit specifically challenges "is far smaller than the roughly 81,000 vote-margin of victory." 
 The three judges on the panel were all appointed by Republican presidents. 
"Tossing out millions of mail-in ballots would be drastic and unprecedented, disenfranchising a huge swath of electorate and upsetting all down-ballot races too. That remedy would be grossly disproportionate to the procedural challenges raised," the panel wrote. "So we deny the motion for an injunction pending appeal."
The ruling came four days after Pennsylvania officials certified their vote count for Biden.
Biden and his running mate, Sen. Kamala Harris, received 3,458,229 votes, according to Pennyslvania's Secretary of State Kathy Boockvar's office. Trump and Vice President Mike Pence received 3,377,674 votes. A third Libertarian Party candidate, Jo Jorgensen, received 79,380 votes.
On Nov. 25, a Pennsylvania appeals court judge ordered state officials to halt any further steps toward certifying election results. Gov. Tom Wolf's administration quickly asked the state Supreme Court to block the ruling from taking effect, saying there was no "conceivable justification" for it.
Since the election, Trump loyalists have filed at least 15 legal challenges in Pennsylvania alone in an effort to reclaim the state's 20 electoral votes.
Trump's team filed a lawsuit Nov. 9 against Pennyslvania's Secretary of Commonwealth Kathy Boockvar and seven county boards of elections. They claimed the state created a "two-track system of voting." Trump's lawyers alleged that led to voters being treated differently depending on how they exercised their right, either in person or by mail.
Porter Wright Morris & Arthur, one of the law firms representing the Trump campaign in the suit, moved to withdraw from the case on Nov. 12. The filing stated that Linda Kerns, another lawyer on the case, would remain on representing the Trump campaign, according to reports.
At the U.S. Supreme Court, 10 Republican state attorneys general filed an amicus brief Nov. 9 to support a challenge to Pennsylvania's decision to count mail-in ballots that arrived through Nov. 6. The Pennsylvania Supreme Court had unanimously upheld the three-day extension set by Democratic state officials concerned about Postal Service delays and the COVID-19 pandemic. The attorneys general said the court usurped a power reserved for state lawmakers.
The U.S. Supreme Court had declined to fast-track the challenge, but the vote was 4-4, and three justices expressed reservations. Republicans hoped to try again with new Supreme Court Justice Amy Coney Barrett on the court. The attorneys general believe the extra time meant "unscrupulous actors could attempt to influence a close Presidential election."
Still, the number of ballots in question would still be too small to overturn the election results.
A federal judge dismissed a motion to stop counting in Philadelphia, but an appellate court allowed the Trump campaign to have its representative as close as 6 feet away from the vote-counting process. The state's supreme court later ruled on Nov. 17 that the city had given observers sufficient access from the start.
RELATED: Trump campaign retreats from key claim in Pennsylvania lawsuit
Trump lawsuits in Georgia
Former Trump campaign attorney Sidney Powell filed a lawsuit Nov. 25 alleging "massive election fraud" that changed the state's results in the 2020 election, claiming that voting machines were a source of fraudulent activity, according to FOX News. A Dominion Voting Systems Corp. spokesperson told FOX News that Powell's claims are without merit.
The lawsuit names Georgia Gov. Brian Kemp and Secretary of State and Chair of the Georgia State Election Board Brad Raffensperger among the defendants, according to FOX News.
The Trump campaign's legal team moved to distance itself from Powell after a tumultuous several days in which she made multiple incorrect statements about the voting process, unspooled unsupported and complex conspiracy theories and vowed to "blow up" Georgia with a "biblical" court filing.
"Sidney Powell is practicing law on her own. She is not a member of the Trump Legal Team. She is also not a lawyer for the President in his personal capacity," Rudy Giuliani and another lawyer for Trump, Jenna Ellis, said in a statement on Nov. 22.
Chris Krebs, who was recently fired by Trump as director of the Cybersecurity and Infrastructure Security Agency, tweeted on Nov. 22 that "any claims of vote count manipulation" in Georgia "were nonsense from day 1" since the systems in the state had paper records that were validated in the recount.
A federal judge dismissed a Trump campaign lawsuit on Nov. 19 that sought to halt certification of the state's election, according to FOX 5 Atlanta. Trump-appointed Judge Steven Grimberg issued his ruling, saying Trump's loss didn't rise to the level of harm that would stop the certification process.
Trump's lawyers filed the lawsuit claiming voter irregularities. According to FOX 5, a poll watcher testified that a stack of ballots looked suspicious because it appeared to be uniform and pristine.
Georgia affirmed Biden's victory on Nov. 19 after a statewide recount, according to the Associated Press.
A judge in Georgia on Nov. 5 dismissed a lawsuit by the state Republican Party and Trump's campaign that asked him to ensure a coastal county was following state laws on processing absentee ballots.
Chatham County Superior Court Judge James Bass did not provide an explanation for his decision Nov. 5 at the close of a roughly one-hour hearing. Chatham County includes the heavily Democratic city of Savannah.
The suit had raised concerns about 53 absentee ballots that poll observers said were not part of an original batch of ballots. County elections officials testified that all 53 ballots had been received on time.
Georgia became a battleground state in the 2020 election, coming into play during the presidential race as demographics, particularly in the metro Atlanta area, have shifted. The state was called for Biden by the Associated Press and FOX News.
On Nov. 20, Raffensperger certified results reported by the state's 159 counties that showed Biden with 2.47 million votes, Trump with 2.46 million votes and Jorgensen with 62,138.
RELATED: Chatham County judge dismisses Trump campaign lawsuit
Trump lawsuit in Arizona
Arizona officials certified the state's election results on Nov. 30, formalizing Biden's narrow victory over Trump even as the Republican president's attorneys continued making claims, without evidence, of fraud in the state's vote count.
The state GOP had asked a judge to stop Maricopa County from certifying the election results until the party's lawsuit, seeking a hand recount, is settled, according to the Associated Press. But a judge on Nov. 19 rejected Republicans' bid to postpone the certification of results and dismissed the party's legal challenge that sought a new audit of a sampling of ballots.
County leaders said they previously conducted an audit and found no discrepancies.
The state's GOP request came after the Trump campaign dropped a lawsuit in Arizona's Maricopa County after finding that Biden's margin of victory in the state is too big for the disputed ballots to make a difference.
In a filing Nov. 13, the campaign said that "the tabulation of votes statewide has rendered unnecessary a judicial ruling as to the presidential electors."
The suit, filed by the Trump campaign and the Republican National Committee on Nov. 7, had alleged the county "incorrectly rejected votes" made by in-person voters on Election Day. 
It sought a manual inspection of the alleged rejected ballots that were cast in person — though attorneys said the votes in question only totaled 191.
On Nov. 10, an attorney representing Trump's reelection team asked the Maricopa County Superior Court judge to seal the evidence of their claim to "protect identities of witnesses," which the judge denied. Maricopa County Deputy Attorney Tom Liddy had argued against the sealing of evidence, saying the public has a right to know.
"If you are going to bring a case and claim you have evidence that the election is no good, that there's systematic failure, that there's thousands of ballots out there for Donald J. Trump that aren't being counted, you must make it in the sunshine," Liddy said, according to local news reports.
The lawsuit was announced the same day Arizona was called for Biden by FOX News and the AP. Arizona's Secretary of State Katie Hobbs responded to the lawsuit saying it had no merit and was a tactic to try and stall the election.
RELATED: Trump campaign concedes on Arizona lawsuit; says ruling on presidential election 'unnecessary'
Trump lawsuit in Wisconsin
Trump filed a lawsuit in Wisconsin on Dec. 1 seeking to disqualify more than 221,000 ballots in a longshot attempt to overturn Biden's win in the battleground state. Trump lost in the state by nearly 20,700 votes. 
The Trump campaign filed the suit with the Wisconsin Supreme Court. It came a day after Democratic Gov. Tony Evers and the chairwoman of the Wisconsin Elections Commission certified Biden as the winner of the state's 10 Electoral College votes.
Trump asked the Wisconsin Supreme Court to take the case directly, rather than have it start in a lower court, and order Evers to withdraw the certification.
The state's highest court, controlled 4-3 by conservatives, also is considering whether to hear two other lawsuits filed by conservatives seeking to invalidate ballots cast during the presidential election.
Trump repeats many claims he made during a recount of votes in Milwaukee and Dane counties that large swaths of absentee votes were illegally cast. Local officials rejected his claims during the recount, and Trump is challenging procedures that have been in place for years and never been found to be illegal.
Trump is not challenging any ballots cast in conservative counties he won.
The Biden campaign issued a statement calling the lawsuit "completely baseless and not rooted in facts on the ground."
"The hundreds of thousands of Wisconsinites targeted by this lawsuit did nothing wrong," Biden campaign spokesman Nate Evans said. "They simply followed longstanding guidance from elections officials issued under the law."
RELATED: Trump campaign files lawsuit in Wisconsin after requested recount
Trump recount requests
The Wisconsin Elections Commission on Nov. 19 ordered a recount of more than 800,000 ballots cast in two heavily Democratic counties. 
Trump paid $3 million and filed a petition for the recount, seeking to undo Biden's victory in the key state. Trump claimed "irregularities" in Milwaukee and Dane counties, which went for Biden by a more than 2-to-1 margin, but no evidence of illegal activity has been presented.
The state does not have automatic recounts, but under Wisconsin law, one can be requested with the required margin of 1% or less. The losing candidate must pay for it but is refunded if the recount changes the election outcome.
On Nov. 24, the fourth day of the recount, 386 absentee ballots cast in Milwaukee that were not opened on Election Day were discovered, a mistake the city's top elections official attributed to human error.
The city's top elections official, Claire Woodall-Vogg, said not counting the 386 ballots on Nov. 3 was due to an error by new election inspectors. The unopened ballots were discovered underneath ballots that had been counted, she said. The county board of canvassers voted unanimously to count the ballots as part of the recount.
"If there's one positive to come out of the recount it's that indeed that every vote is being counted, including these 386," Woodall-Vogg said.
Milwaukee County completed its recount of presidential ballots Dec. 27, finding only small changes in vote totals. 
On Dec. 29, Wisconsin's Dane County certified its 2020 election results following the recount. County Clerk Scott McDonell tweeted the results, showing Biden with 260,121 votes and Trump receiving 78,794 votes.
The recount further cemented Biden's win in the state. According to the Milwaukee Journal Sentinel, "Biden netted 132 votes in Milwaukee County and Trump netted 45 votes in Dane County. When taken together, that increased Biden's statewide margin to 20,695 votes out of about 3 million cast."
RELATED: Election recount rules, processes vary by state
Trump's campaign requested a recount of votes in the Georgia presidential race on Nov. 21, a day after state officials certified results showing Biden won the state.
Georgia's results showed Biden beating Trump by 12,670 votes out of about 5 million cast, or 0.25%.
State law allows a candidate to request a recount if the margin is less than 0.5%. Election workers already spent days recounting the state's votes cast in the race — part of a statewide audit to make sure the state's new voting machines counted accurately. Republican Gov. Brian Kemp formalized the state's slate of 16 presidential electors.
The Trump campaign sent a hand-delivered letter to the secretary of state's office requesting the recount, meaning Georgia's votes are being tabulated for a third time. This time, the recount is being done by high-speed scanners and not by hand.
On Dec. 1, a top Georgia elections official lashed out angrily at the rhetoric surrounding the election and the threats of violence that have resulted. Republican Gabriel Sterling specifically called on Trump to rein in his supporters during a routine news conference at the state Capitol.
Sterling admonished the president and Georgia's two U.S. senators, who are both locked in tight runoff races against Democrats and have called on Raffensperger to resign over claims that he mishandled the election.
"Mr. President, you have not condemned these actions or this language. Senators, you have not condemned this language or these actions," Sterling said, visibly angry. "This has to stop. We need you to step up, and if you're going to take a position of leadership, show some."
Counties must complete this recount by 11:59 p.m. on Dec. 2.
RELATED: 43 of 159 counties done with Georgia presidential recount
This story was reported from Cincinnati. The Associated Press contributed.