Dolphins beat Texans 44-26, injury ends season for Foster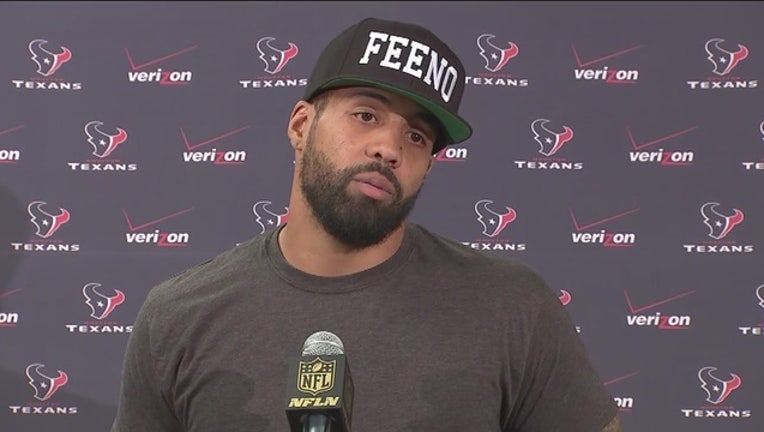 MIAMI (FOX 26) - MIAMI GARDENS, Fla. (AP) -- With the Miami Dolphins leading 35-0 midway through the first half, while the rest of the sideline celebrated, interim coach Dan Campbell stood alone staring at the scoreboard and managing to keep a straight face.   
For Campbell it was business as usual, with blowouts the norm so far.   
The Dolphins' astounding turnaround under their new coach gained momentum Sunday, when Ryan Tannehill completed his first 18 attempts and threw for four scores in first 16 minutes to help beat the Houston Texans 44-26.   
The drubbing was even more emphatic than Miami's 38-10 win at Tennessee a week earlier in Campbell's debut as a head coach.   
Now he's the fifth interim coach of 26 since 2000 to win his first two games. Since the firing of Joe Philbin on Oct. 5, the Dolphins (3-3) have gone from notorious underachievers to contending for their first playoff berth since 2008.   
The Dolphins had been 0-7 previously against Houston (2-5), the only team they had never beaten.   
Miami became the first team in at least 75 years to score four offensive touchdowns of at least 50 yards in a half, according to STATS. Tannehill extended his two-game streak to 25 consecutive completions, an NFL record, before he threw his only incompletion in the fourth quarter.   
Jarvis Landry scored on a jaw-dropping 50-yard catch and run through most of the Texans' defense. He also caught a 10-yard touchdown pass from Tannehill. Lamar Miller scored on a 54-yard reception and an 85-yard run. Rishard Matthews scored the game's first points when turned a short pass from Tannehill into a 53-yard score.   
That was all in the opening half, when the Dolphins built a 41-0 lead. They tied a franchise record of 21 points in the first quarter, done three other times, and 35 points at halftime set in 1967, their second season.   
The Dolphins began pulling their regulars at halftime. The Texans scored four touchdowns in the second half, but their dismal day became worse when running back Arian Foster hobbled off the field with an Achilles tendon injury late in the game.   
Miller rushed for 175 yards in 10 carries, all in the first half. Tannehill went 18 for 19 for 282 yards, with a perfect passer rating of 158.3.   
Miami did not have a 50-yard play from scrimmage previously this season. Tannehill became the first quarterback to throw three touchdown passes of 50-plus yards in a first half since Randall Cunningham in 1998, according to STATS.   
Reshad Jones scored for the defense on a 23-yard interception return, snatching a deflected pass and somersaulting into the end zone for the second week in a row. He became the first Dolphins player with a pick-six in consecutive games.   
Brent Grimes shadowed DeAndre Hopkins, who was held to six catches for 50 yards, ending his franchise record-tying streak of four consecutive 100-yard games.   
The Dolphins were nearly flawless in the first half, although they did miss the extra point kick after their sixth touchdown. Their yardage advantage was 275-0 in the first 16 minutes, and the score was 35-0 before the Texans registered a first down.   
------   
AP NFL website: www.pro32.ap.org and http://twitter.com/AP--NFL   
------   
Follow Steven Wine on Twitter: http://twitter.com/Steve--Wine