Dangerous brown recluse spiders found in Michigan garage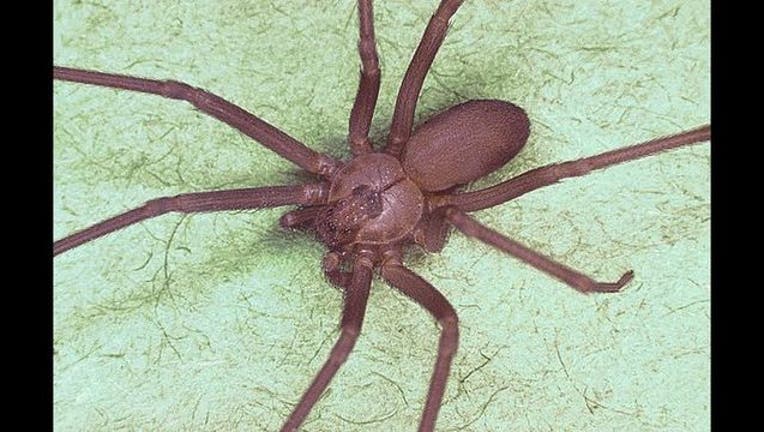 article
DETROIT (WJBK) - Brown recluse spiders aren't something most people in Michigan have to worry about. But last week, one family in Davison had a spider family take up residence inside their detached garage.
On the floor of their unheated, detached garage in Davison, the family spotted two long-legged spiders. According to CBS News, they were identified as brown recluse spiders, which carry a powerful bite. Occasionally, a bite can become necrotic and turn a dark color before becoming a deep, open sore before the bite dies.
Don't Google it.
The family said they had no idea where the quarter sized spiders came from or how they arrived in Michigan. Michigan State University entomologist Howard Russell confirmed that the spiders were brown recluses and this isn't the first time he's seen them in Michigan.
Spider bite leaves 'hole' in former 'Voice' contestant's face
"I've been doing this for 30 years," Russell told CBS News. "I've had eight brown recluse out of thousands of spiders submitted, so they're rare." 
According to the University of California Riverside spider site, brown recluses shouldn't be anywhere near Michigan, though they are found in southern Ohio, Indiana, and Illinois.
Prior to 2009, Russell said he had only positively identified two brown recluses in Michigan. He also said that he concluded that in both of those cases, the spiders hitched a ride with people who had recently traveled to a southeastern state where they're common.
Then it started to change.
Russell wrote in 2011 that three populations of brown recluse spiders confirmed in Hillsdale, Flint, and Lansing. He concluded at the time that there are small, isolated populations of the brown recluse living in Michigan. He said that he did so reluctantly because of the hysteria that surrounds the spiders.
"It is very likely that 99.99 percent of all Michigan residents will go through their entire lives without ever seeing a brown recluse spider," he wrote.
Since then, they have been found in three other locations, including Tecumseh, Ann Arbor, and now Davison. 
The Tecumseh family believes they came in with new kitchen cabinets that the previous owner installed. The Ann Arbor specimen came from a building on campus at the UofM. The Davison find is noteworthy to Russell because they were found in the unheated, detached garage.
Russell says there is no history of anything stored in the garage that originated from areas that are within the native range of the recluse. Cold winters are thought to prevent brown recluses from living in Michigan and similar states. However, in Davison, it appears they survived the winter in an unheated garage.
Russell told CBS News that there's nothing to be worried about, pointing out that Northern Widows live in the area and more people get 'sick by bee or wasp stings'.
If in doubt, call an expert.
"Have it confirmed by somebody who actually knows spiders -- and possibly confirmed by somebody who doesn't have business interest in the result of that determination," he said to CBS News.