City of Houston 'Dinner to Home' program providing meals, services to those experiencing homelessness
HOUSTON - The City of Houston "Dinner to Home" program is providing meals and wraparound services for individuals who are experiencing homelessness. 
City officials said the initiative is a food program designed to help individuals and families experiencing homelessness who may not normally engage with the homeless housing system.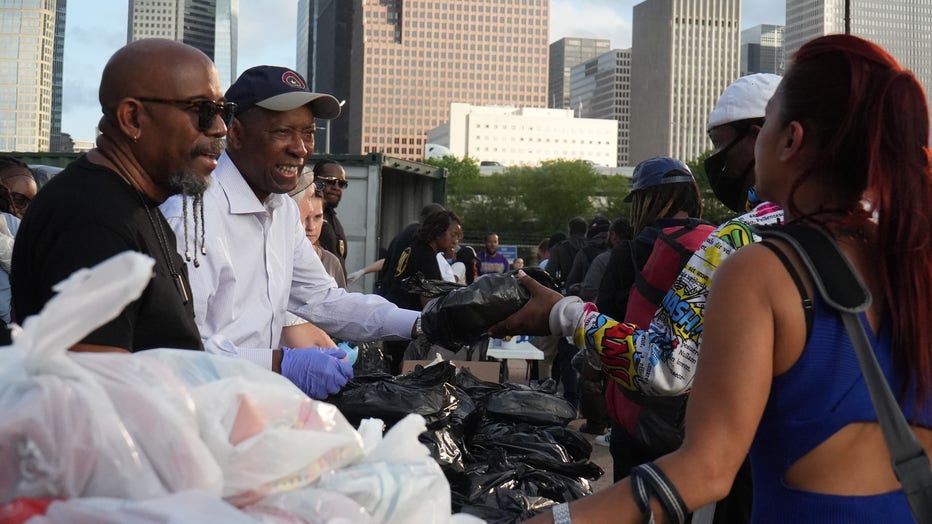 Since the program's launch in November of last year, hundreds of individuals experiencing homelessness have been served.  
The City of Houston partnered with Pastor Rudy Rasmus and the Bread of Life, the Coalition for the Homeless, and SEARCH Homeless Services to provide meals at over 65 feeding events. The hot dinner is served in a respectful, dignified atmosphere with tables, chairs, trash cans, restrooms, and hand-washing stations.  
"This is just one step. The goal is not only to provide them with a meal, but to also put them in permanent supportive housing, so they can eat in their own kitchen," said Mayor Sylvester Turner.  "You can't just tell people to relocate, you must provide suitable and reasonable accommodations close to where they have been, that doesn't inconvenience them, and also provides them with more than a meal. I can give someone a sandwich, but they need a lot more than that, we must put them in a better place so that they can stand up for themselves and live productive lives. This is one step, not the final step."  
The hot meals are provided Monday, Wednesday, Friday and Sunday weekly at 61 Riesner Street. 
"This is an opportunity to give someone a good meal in a safe place and then start to build that relationship towards permanent housing," said Mark Smith with the Mayor's Office of Homeless Initiatives.