Bill looks to expand alcohol sales on Sunday in Texas
AUSTIN, Texas - Two bills filed in the Texas House and Senate last month could expand alcohol sales on Sundays.
Senate Bill 1288 and House Bill 2200, filed by State Sen. Kelly Hancock (R-Fort Worth) and State Rep. Justin Holland (R-Rockwall) would amend the Alcoholic Beverage Code to change the definition of "liquor" under Texas law, so "spirit coolers" would not be included.
Under the bill, "spirit coolers" would include ready-made cocktails with alcohol like rum, brandy and gin, as long as they are not more than 17 percent alcohol by volume.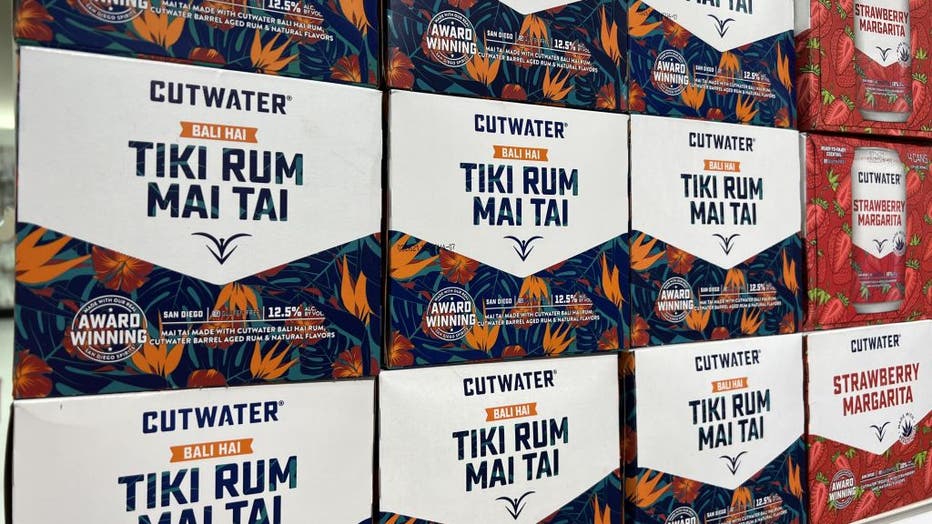 Boxes of Cutwater Tiki Rum Mai Tai canned cocktails in a retail store in Pleasant Hill, California, February 11, 2022. Photo courtesy Sftm. (Photo by Gado/Getty Images)
Canned cocktails have grown in popularity over the last few years, but under Texas law grocery stores and convenience stores are currently only allowed to sell beer and wine on Sunday.
"As industries innovate and new products become staples in the marketplace, it only makes sense for us to take a look at ways government can reduce regulatory red tape," said Sen. Hancock in a statement to the Distilled Spirits Council of the United States. "I look forward to continuing to work on legislation that keeps free market principles at the core of Texas' economic success."
A recent survey from the Distilled Spirits Council showed 86 percent of people believed the cocktails should be sold when other ready-to-drink beverages are available for purchase.
If passed, it would be another step in loosening Texas's alcohol sales laws.
In 2021, state leaders allowed beer and wine sales before noon on Sundays. They also voted to allow restaurants to continue allowing to-go cocktails after they were approved during the pandemic.