Biden avoids mention of race shakeup in Houston
HOUSTON - Joe Biden has avoided mention of the turmoil in the Democratic primary race at a rally in Houston as his rivals Pete Buttigieg and Amy Klobuchar end their campaigns with plans to endorse him.
Biden campaigned in Texas on Monday, the day before 14 states hold Super Tuesday primaries, as the political world buzzed with the shakeup of moderates coalescing around him as the alternative to Bernie Sanders, the democratic socialist senator from Vermont.
Biden says, "The decision Democrats make tomorrow and the next few weeks will determine what we stand for, what we believe, and where we're going to go."
In a dig at Sanders' signature call to action, the former vice president said, "Most Americans don't want a promised revolution. They want guaranteed results."
It was a message similar to what Biden unveiled Saturday in South Carolina after his near 30-point margin of victory there reframed the race. Sanders had led through the first three contests in Iowa, New Hampshire and Nevada.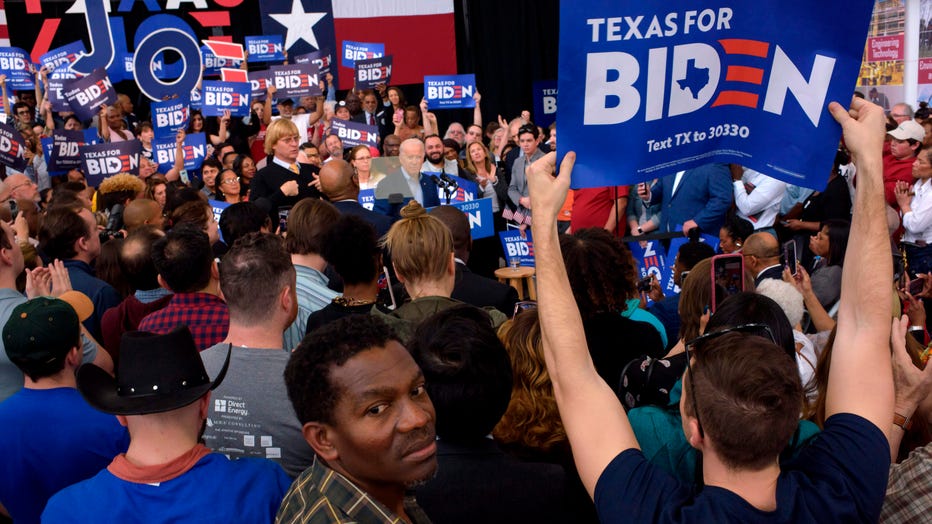 Supporters of presidential candidate Joe Biden listen to him speak during a rally on March 2, 2020 at Texas Southern University in Houston, Texas. (Photo by Mark Felix / AFP) (Photo by MARK FELIX/AFP /AFP via Getty Images) (Getty Images)
Biden notably did not mention billionaire Mike Bloomberg, who will be on primary ballots Tuesday for the first time. Bloomberg skipped the first four contests, spending more than $500 million of his own money on a strategy that he could make a late entry into the nominating fight and become the moderates' preferred option in place of Biden.
Biden will campaign Monday night in Dallas with Buttigieg and Klobuchar.