Animation, new customizable features coming to Facebook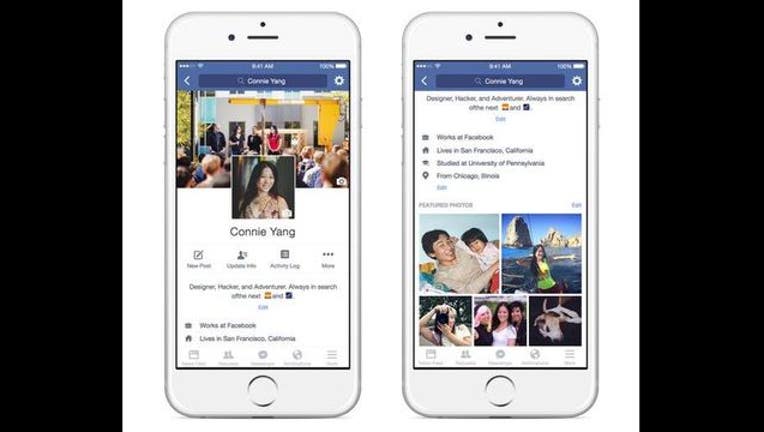 CALIFORNIA - If you weren't already trying to learn and adjust to Facebook's last update, the company will be rolling out  new mobile-friendly features to step up your social network.
According to the news release announcement made Wednesday, the largest feature with the new roll out will allow users to be able to "film a short, looping video clip that will play for anyone who visits [users'] profiles."
Facebook hasn't ignored your profile picture itself either. After an overwhelming response of users choosing to use the "Celebrate Pride" filter, Facebook said " it was more apparent than ever that people use their profile picture to show who they are— even if it's just for a moment in time."
Soon, users will be able to "schedule" what profile picture they have on any given day and time. This update will come in handy for those that like to celebrate social engagements like 'Throwback Thursday' (#TBT) or 'Flashback Friday'. This update for users can act as "a visual status update to let your friends know what's going on in your life today, or it can be your statement of solidarity for a cause you feel strongly about."
Users will also be able to customize further on their profiles with the new ability to control the space at the top of the profile. More profile customizations give users the ability to try out  "the new, one-line 'Bio' field: select certain public About fields like work and education details to appear there; and even visually highlight what's important to you by choosing up to five Featured Photos to be showcased at the top of your profile. While this space is visible to anyone who visits your profile, you have full control of what information appears here."
Profile pictures will also make users front and center in the new update, by literally moving profile photos to the center of the profile, while also making them larger. This change is meant  to "give [users] more real estate to show off what [they] can do with [the] new creative tools."
The new updates will be rolling out to select users in California and the UK to start, but will be reaching all users soon thereafter.