Amber Alert {update} Twinkle Twinkie Twilight found safely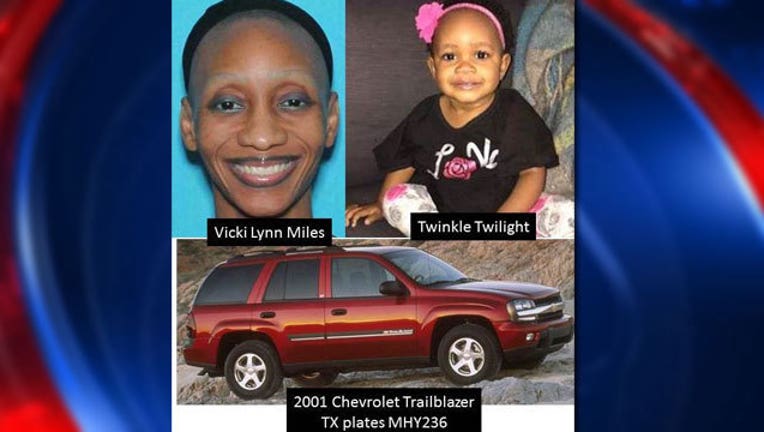 FORT WORTH, TX (FOX 26) - update -- 11/16/2015 8:30A.M
AMBER ALERT UPDATE
Child found and is safe

 
Fort Worth Police are searching for a 15-month-old girl believed to have been abducted by a 42-year-old woman. 
Twinkle Twinkie Twilight is described by authorities as an African-American child with black hair and brown eyes, weighing 40 pounds and standing just 2-feet tall.
Twilight was last seen wearing a gray shirt and blue jeans.
Police believe Vicki Lynn Dixon (Miles) is connected with Twilight's abduction. Dixon is described as an African-American woman with brown hair and brown eyes, weighing 114 pounds and standing 5'3".
Authorities say Dixon was last seen in Fort Worth driving a red 2001 Chevrolet, Trail Blazer with Texas license plate number: MHY236.
Law enforcement officials believe this child to be in serious danger. If you have any information, please call the Fort Worth Police Department at 817-335-4222