6.4 magnitude earthquake rattles Southland on Fourth of July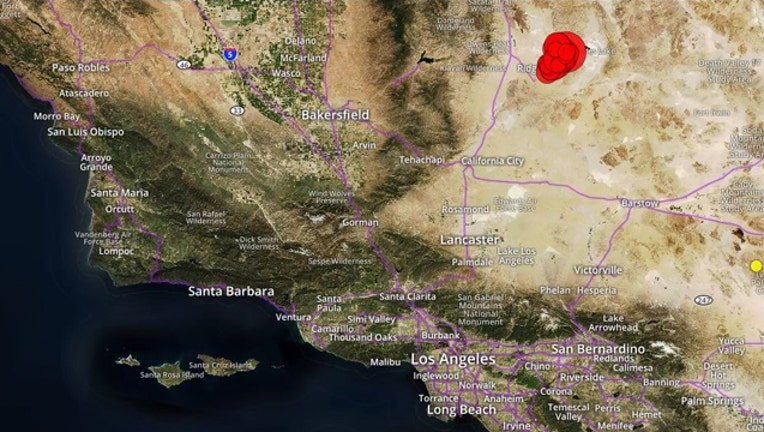 LOS ANGELES (FOX 11) - A magnitude-6.4 earthquake was felt throughout the Southland today, shaking up local residents celebrating the Fourth of July.
According to Kern County Fire on Twitter: 
Emergency Alert. Another possible earthquake has been predicted within the next 15 minutes in or near Kern County.
#EarthquakeResponse Update. We can confirm evacuations are underway @ Ridgecrest Regional Hospital.
The Los Angeles County Fire Department is sending a battalion chief and a task force to Ridgecrest, near Bakersfield, to assist the Kern County Fire Department in earthquake recovery efforts, according to fire authorities.
RELATED: LIVE Earthquake radar, helpful links and resources from the California Earthquake Authority.
The quake, which began at 10:33 a.m., was centered about 10 miles from Ridgecrest, near the San Bernardino County and Kern County, according to the U.S. Geological Survey.
There were no immediate reports of damage or injuries in Los Angeles or Orange County.
The Los Angeles Fire Department reported that "all 106 fire stations are out conducting a strategic survey of their districts to determine if any damage exists. Once this process is complete, an overall assessment of the impact in the City of Los Angeles will be compiled".
RELATED: Surviving the earthquake special: Prepare, Survive, and Recover.
Southland police agencies were reminding the public not to use 911 for earthquake questions unless they have injuries or dangerous conditions to report.   
The Los Angeles Police Department Headquarters tweeted out:
We felt the earthquake, did you? Please only use 911 to report emergencies. Non emergencies in the City of Los Angeles use 877-ASK-LAPD.
Officials with the San Bernardino County Fire Department tweeted that they were conducting an assessment of the region and "no injuries reported, however buildings and roads have sustained varying degrees of damage."
RELATED: Shake Alert app: The reason why some didn't receive the alert
 It was the strongest quake to be felt in Southern California since 1999, according to seismologist Lucy Jones, founder of the Dr. Lucy Jones Center for Science & Society.
Jones said the quake was not on the San Andreas fault. "It is an area with a lot of little faults but no long fault," she tweeted.
President Donald Trump tweeted out:
'Been fully briefed on earthquake in Southern California. All seems to be very much under control!'
People all over the southland are sharing their videos of the quake on social media: 
Twitter user Zomo_abd tweeted out: 
My dads liquor store in Ridgecrest (11 miles from the earthquake)
Jrockstarstatus posted on Instagram from Ridegecrest:
City News Services contributed to this report