3-year-old dead after alleged drunk driver crashes into car in Harris County
HOUSTON - A young child has died after a major car crash caused by a drunk driver in Harris County.
On Wednesday around 1:17 a.m., deputies with Constable Mark Herman's Office responded to the 5900 block of FM 2920 Road in north Houston about a major crash. When they arrived, two adults and a 3-year-old were found injured in their car and the other driver had run away from the scene. 
Reports say on Thursday at 12:41 P.M. the 3-year-old child tragically died from their injuries. Constables say they will be upgrading the Failure to Stop and Render Aid charge to Intoxication Manslaughter.
SUGGESTED: Takeoff murder suspect Patrick Clark posts $1 million bond
Reports say the constable deputies eventually found the driver at fault, who they identified as Rosendo Gaeta, after he ran and discovered he was intoxicated.
"Rosendo Gaeta was arrested and booked into the Harris County Jail, charged with two counts of Intoxication Assault, two counts of Failure to Stop and Render Aid Causing Serious Bodily Injury, and one count of Failure to Stop and Render Aid during a motor vehicle accident," said Constable Mark Herman initially.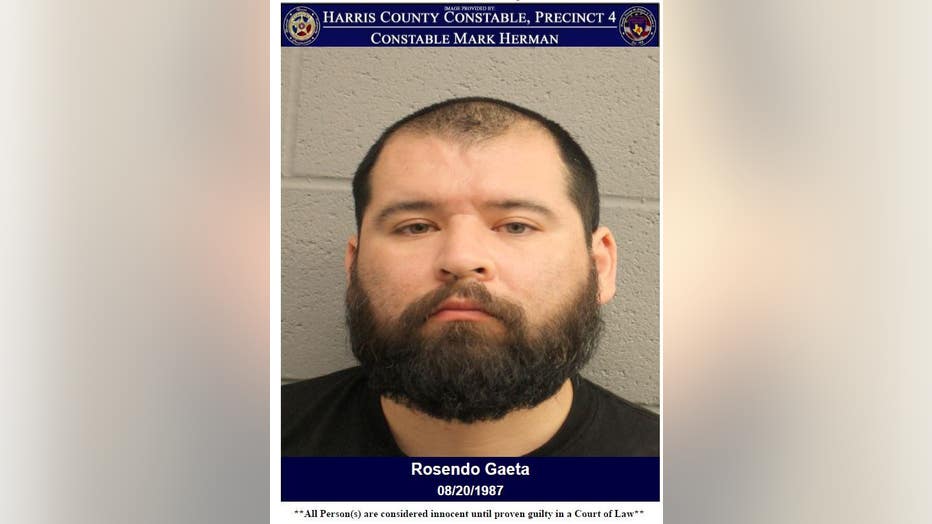 (Photo Courtesy of Harris County Constable, Precinct 4)
Investigators say Gaeta was driving at a high rate of speed and hit the victim's car as they were stopped at a red light.
Paramedics arrived at the crash scene to treat the victims and determined the child had life-threatening injuries. They life-flighted them to a Memorial Hermann hospital.
MORE CRIME AND PUBLIC SAFETY STORIES
The 3-year-old was initially reported to be in critical condition and was on life support. The other two victims are expected to recover. 
Gaeta's bond and court date have not been set at this time officials say.
We will continue to update this story as more information becomes available.