2 killed when cargo plane goes off runway in West Virginia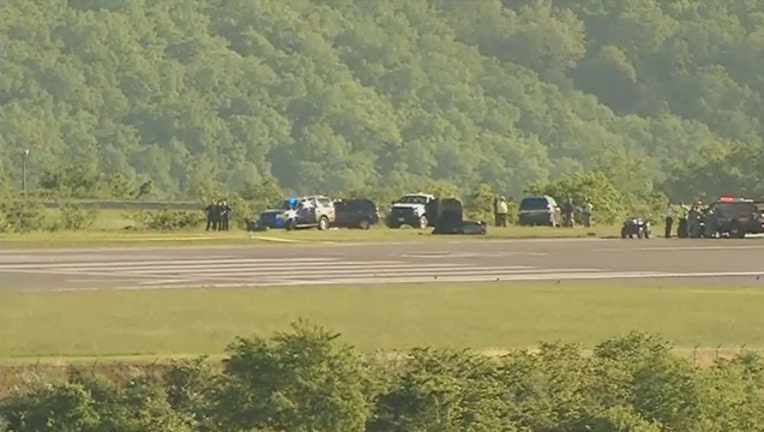 article
CHARLESTON, W.Va. - (AP) -- The pilot and co-pilot were killed Friday morning when a cargo plane contracted by UPS went off the runway and over a hillside at a West Virginia airport, an airport official said.
After crashing, the plane went down a steep, wooded hill and emergency crews were trying to reach the crash site from above and below, Yeager airport spokesman Mike Plante said.
"It's difficult terrain to negotiate," Plante said.
Nearly two dozen emergency vehicles lined the runway, which was closed as crews continued to work the scene.
The Air Cargo Carriers plane had departed from Louisville, Kentucky, at 5:43 a.m. and arrived at the Charleston, West Virginia, airport at 6:51 a.m., Plante said. He said the plane was a small, twin-engine turboprop.
Plante said officials have no idea why the plane, which made regular runs to the airport, crashed. The weather in Charleston was sunny and clear.
The National Transportation Safety Board is investigating.
UPS said in a statement that the company was aware of an incident at the airport involving a small feeder aircraft carrying UPS packages, but said it had no details to share.
Charleston airport officials have proposed spending $290 million to rebuild and extend the airport runway after a landslide in 2015 took out a church and an unoccupied house. The proposal calls for lengthening the runway from about 6,800 feet to 8,000 feet.
------
An earlier version of this report had an incorrect time on when the plane arrived at the airport.
© 2017 The Associated Press. All rights reserved. This material may not be published, broadcast, rewritten or redistributed.