Taverna cuisine at Helen Greek Food and Wine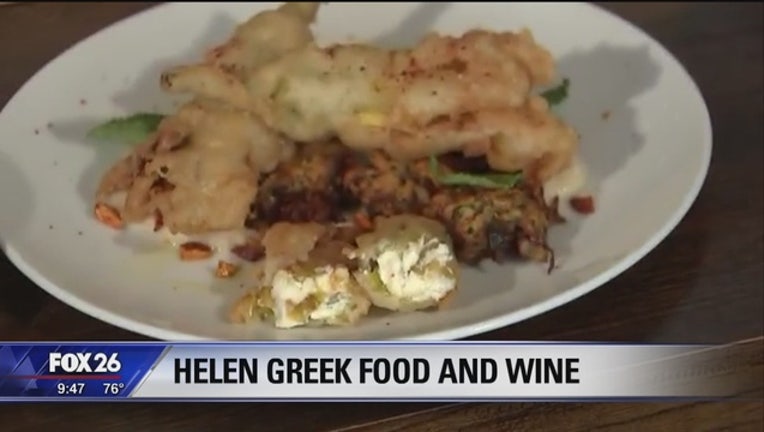 HOUSTON (FOX 26) - Started with seed money from a Kickstarter campaign, the hottest new Greek restaurant in Houston serves classic dishes with a modern twist. Located in Rice Village, Helen Greek Food and Wine offers the largest Greek wine list in Texas and the second largest in the U.S. During a visit to the restaurant by CBS Sports Radio 650 host Cleverley Stone on FOX 26 Morning News, Chef William Wright demonstrates how to prepare stuffed squash blossoms and stuffed vegetables while sommelier/restaurant partner Evan Turner suggests wine pairings for each dish.
Recipes submitted by Helen Greek Wine and Food Chef William Wright
Orzo Stuffed Vegetables
2 zucchinis, halved and seeds scooped out

2 yellow squash, halved and seeds scooped out

2 red bell peppers

2 cups cooked orzo pasta

2 Tbsp chopped parsley

1 Tbsp chopped mint

2 tsp thyme

3 green onion, sliced

3 Tbsp extra virgin olive oil

Salt

Cracked black pepper

Mizithra cheese, grated
Directions
Cut vegetables in half, north to south, and scoop out seeds and the soft center. Drizzle with olive oil and season with salt and pepper. Put into a 350° oven for 15 minutes or until tender.

Take half of the vegetables, chop them and mix with the orzo and herbs. Fill remaining vegetables with the orzo mix and return to the oven for 7-10 minutes.

Red Pepper Yogurt
2 cups Greek yogurt

1 roasted red pepper

Salt

Directions
Roast red pepper under a broiler or over a open flame until completely charred. Put into a bowl to rest and cover with plastic wrap for half an hour. This allows the pepper to steam.

Remove the plastic wrap and clean the excess char from the pepper, be sure not to remove all of it though as it contributes to the flavor. Remove the stem and seeds of the pepper and blend the yogurt and the pepper together. Season with salt.

To Assemble the Dish:
1. Drizzle red pepper yogurt on bottom of plate. Top with the stuffed vegetables and garnish with grated mizithra cheese and fresh herbs.
---
Ricotta Stuffed Zucchini Blossoms
12 Zucchini blossoms

12 oz ricotta cheese

1 tsp thyme

1 tsp oregano

1 tsp lemon zest

2 tsp lemon juice

2 tsp olive oil

salt

aleppo pepper or red chili flakes

Chickpea Tempura Batter (You can also use a boxed tempura batter instead.)
2 cups chickpea flour

8 oz beer or sparkling water

Salt

Pepper

Directions
Transfer seasoned ricotta to a piping pastry bag or alternately a plastic zip lock bag with the corner cut off.

Carefully fill blossoms with mixture until 3/4 full.

Push ends closed and dip into batter, coating the flower. (You can substitute a boxed tempura batter if you wish.)

Gently drop into 350° fry oil until golden brown.  

Zucchini Fritters
8 oz zucchini, grated

8 oz yellow squash, grated

4 oz feta cheese

2 eggs

2 oz chickpea flour (or AP)

Salt

Directions:
Grate zucchini and yellow squash on the course side of a box grater.

Put mixture in the center of a clean kitchen towel, bring edges together, twist and squeeze mixture to remove excess liquid. Add to a mixing bowl with remaining ingredients.

Once combined take a spoonful at a time and drop into 350° fry oil until golden brown.

Skordalia Garlic Sauce
8 oz boiled potatoes

6 cloves garlic

4 Tbsp red wine vinegar

5 Tbsp water

6 oz extra virgin olive oil

Salt
Directions
Boil potatoes in salted water until tender.

Add to food processor with remaining ingredients and blend until smooth.

Adjust taste and consistently with olive oil, vinegar and salt.
To Assemble the Dish
Spread a spoonful of skordalia across the plate.

Stack fried blossoms and fritters on top and garnish with torn mint leaves.