Earl approaching Belize as hurricane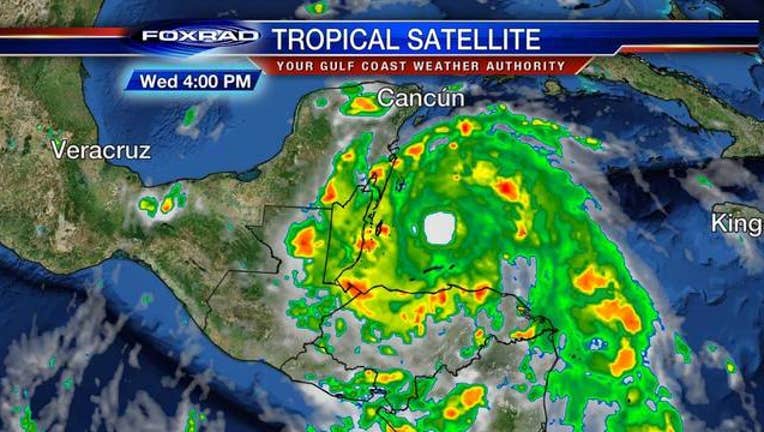 article
BELMOPAN, Belize (AP) - Earl strengthened into a hurricane Wednesday and roared toward a nighttime landfall in the Caribbean nation of Belize as it brushed by Honduras, leaving felled trees and power lines in its wake.
The storm dumped rain on nearly all of Honduras, where officials reported a lobster fishing boat was hit by a large wave in the Caribbean and capsized. Most of the 83 people on board were rescued, but the navy was looking for two missing.
Authorities rescued four families in the coastal city of Trujillo after a river jumped its banks.
Lisandro Rosales, head of Honduras' emergency commission, said there were reports of large numbers of trees and utility poles being knocked down.
Schools and universities closed across Honduras' Atlantic provinces as did two commercial airports.
The head of the country's emergency commission warned of torrential rains, particularly along the northern coast.
The storm was brushing by the popular tourist destination of Roatan Island in the afternoon.
The U.S. National Hurricane Center in Miami said Earl threatened to bring heavy rains, flooding and high winds to Belize and Mexico.
In Belize, the government opened storm shelters and used radio and television broadcasts to urge residents of low-lying areas to move to higher ground.
Officials also ordered the international airport in Belize City to close and archaeological reserves and national parks were shut. The Belize Tourism Board announced that cruise ship calls had been canceled for this week.
The government's chief meteorologist, Dennis Gonguez, said the storm should begin affecting the country Wednesday evening and would likely come ashore as a Category 1 hurricane.
Long lines of vehicles formed at gas stations across Belize as residents filled their tanks in advance of Earl's arrival. Stores were busy with people buying water and food.
At The Palms Oceanfront Suites in San Pedro on Belize's Ambergris Caye, Ana Ico said the hotel began preparing two days ago and gave guests the option to evacuate to the mainland or stay at the hotel. About 12 guests chose to remain, Ico said.
"Some of them have decided to stay so what we're doing is we're giving them some water, flashlights, and informing them as we get updated on the storm," she said.
The airport on diving destination Roatan off the coast of Honduras closed its airport as heavy rains moved in.
On Sunday, Earl was a weaker tropical wave but knocked down power lines and started a fire that killed six passengers on a bus in the Dominican Republic.
Late Wednesday afternoon, Earl was a Category 1 hurricane with maximum sustained winds of 75 mph (120 kph), the National Hurricane Center said. It was centered about 150 miles (240 kilometers) east of Belize City and moving west at 14 mph (22 kph).
A hurricane warning was in place for Belize, parts of Mexico and islands off Honduras' north coast.
___
Associated Press writers Freddy Cuevas in Tegucigalpa, Honduras, and Christopher Sherman in Mexico City contributed to this report.