Poor outfield play factor in Astros losing 10-9 to Red Sox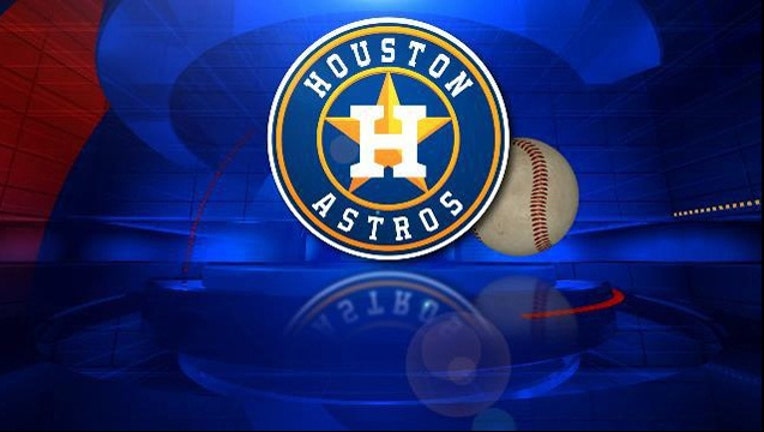 BOSTON (AP) - The Houston Astros certainly know they better turn things around soon after their second straight tough loss.
Xander Bogaerts hit a three-run homer and Ryan Hanigan had three singles and drove in four to lead the Boston Red Sox to a 10-9 victory that was aided by a poor outfield play from the Astros on Sunday.
"We've got to play better. We feel like we keep shooting ourselves in the foot," losing pitcher Scott Feldman said. "We've got a lot of talent in this room and we feel like there's too many times where we head home from the stadium saying: 'Man, we should have won that game.'"
Luis Valbuena had a three-run homer and five RBIs for the Astros, and Carlos Correa added a solo homer.
But this loss was a lot different than Saturday when David Ortiz came up with two clutch hits for Boston.
Clinging to a one-run lead in the seventh, the Astros had a routine fly ball drop between two outfielders to score the tying run. Feldman (2-3) then gave up Mookie Betts' triple up the right-center gap.
Center fielder Carlos Gomez took the blame on the play with right fielder George Springer.
"I called it and didn't catch it," Gomez said. "We lost the game because of me today. There's nothing I can say. We lost because of me."
Houston fell nine games under .500 after losing three of four to Boston.
"We got beat," manager A.J. Hinch said. "We didn't play well enough to win games."
It was the seventh win in eight games for the Red Sox, who completed a 6-1 homestand in which they scored 73 runs.
Boston's Jackie Bradley Jr. had a single to extend his majors' longest hitting streak this season to 21 games.
Heath Hembree (2-0) pitched two innings of relief for the win. Craig Kimbrel got the final three outs for his 10th save.
Ortiz had the day off to rest his legs after getting a double, triple and homer in a game for the first time in his career on Saturday.
Red Sox left fielder Brock Holt was ejected by home plate umpire Joe West after getting called out on strikes.
Trailing 8-6 in the sixth, the Astros scored three times. Third baseman Rutledge's two-out throwing error allowed a run before Colby Rasmus' RBI double tied it. Tyler White followed with a run-scoring single.
The Red Sox had pushed ahead with four in the second against rookie Chris Devenski. Hanigan had an RBI single before Bogaerts homered over the Green Monster, making it 6-3.
An inning later, Hanigan's two-out, two-run single made it 8-4.
Boston starter Sean O'Sullivan was charged with six runs in 4 1/3 innings.
Devenski lasted just two innings in his fourth major-league start, getting tagged for six runs.
Valbuena homered into the bleachers over the Astros' bullpen.
TRAINER'S ROOM
Astros: Gomez was shaken up diving back hard into second on an attempted pickoff, but stayed in the game.
Red Sox: Manager John Farrell said LHP Eduardo Rodriguez (right knee) and RHP Joe Kelly (right shoulder impingement) would both make another rehab start for Triple-A Pawtucket.
ROSTER MOVES
Boston designated O'Sullivan after the game.
Hinch said the Astros would make a few moves. OF Preston Tucker will be optioned to Triple-A with a corresponding move to come on Tuesday. Also, the club will make an undetermined move with Erik Kratz and reinstate OF Evan Gattis from the 15-day DL.
RUNNING ON HIM
The Red Sox stole three bases against catcher Jason Castro. He's caught just three of 18 this season.
UP NEXT
Astros: Off Monday. Reigning Cy Young winner Dallas Keuchel (2-5, 5.58 ERA) looks to end his four-game losing streak in the opener of a three-game series at the Chicago White Sox on Tuesday.
Red Sox: RHP Rick Porcello (6-1, 3.11) is set to face Royals' RHP Yordano Ventura (3-2, 4.62 ERA) in the first of three in Kansas City. Porcello has pitched at least six innings in 15 consecutive starts, the majors' longest active streak.