JJ Watt's charitable efforts inspired by former player-turned-doctor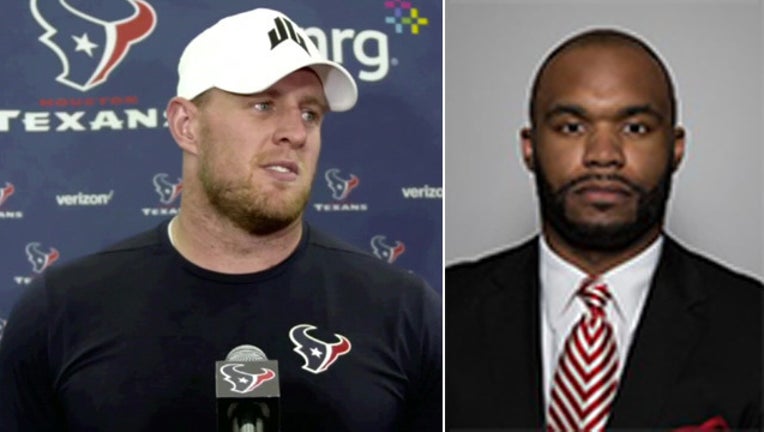 article
HOUSTON (FOX 26) - During a fan forum in Minneapolis connected to the Walter Payton NFL Man of the Year Award, Houston Texans defensive end J.J. Watt revealed who inspired him to develop his charitable foundation which has helped so many people around the country, especially in the Houston area.
"Once I got to college I learned about a guy named Myron Rolle who went to Florida State and ended up becoming a Rhodes Scholar," Watt said during the forum televised nationally by the NFL Network.
"While he was still in college he started his own foundation. That really kind of opened my eyes to the fact you don't necessarily have to be a pro athlete. You don't necessarily have to be a millionaire to have your own foundation to try and give back.
"So that's why I started mine back when I was in college, because I saw that inspiration from him. I've never met Myron. I've never talked to Myron. I don't even know if he knows he was the inspiration behind me starting my own foundation, but that's kind of what this is all about. You never know who you're inspiring. You never know who that next person is going to be to start a foundation to make a difference in the world to make a change. That's special, and that's really cool. So thank you to Myron. I appreciate it."
Dr. Rolle, who was a safety at Florida State, was taken in the sixth round of the 2010 NFL Draft by the Tennessee Titans and retired a couple of years later to focus on medicine.
He is currently a neurosurgeon resident at Massachusetts General Hospital in Boston.
Dr. Rolle is thrilled with the impact he has had on the three-time NFL Defensive Player of the Year.
"That's fantastic. If I was able to serve in that role for JJ, that's an amazing thing because he's certainly taking it to a higher level by affecting change and driving change in Houston and Texas and I'm sure around the country as well," Dr. Rolle said in an interview with FOX 26 Sports.
"It's flattering. It's humbling. It's an honor. It certainly is, and it's one of the incredible byproducts of altruism, and truly trying to be a citizen of the world."
Watt is one of three finalists for the prestigious Walter Payton NFL Man of the Year Award, which recognizes an NFL player for his excellence on and off the field.
Joining Watt as finalists are Baltimore Ravens tight end Benjamin Watson and Carolina Panthers tight end Greg Olsen.
The winner will be announced Saturday night.
As far as Dr. Rolle is concerned Watt has already won in a big way with his remarkable efforts off the field, highlighted by raising more than $37 million for hurricane and flood relief.
"J.J.'s an incredible role model," Dr. Rolle said. "I've never met him before, but nevertheless it's exciting to see him live out his purpose, not only on the field, but off the field too.
"In this world right now we have a lot of issues certainly, and we're lacking strong leaders and he's stepping up to the plate. I'm very proud of him."
Dr. Rolle was asked if he would like to send a message to JJ.
"I'd say 'JJ you're doing amazing work, and certainly a lot of people are benefiting from what you're doing," Dr. Rolle said. "And as you alluded, there's somebody who's looking at you, whether they're in Wisconsin, or they're in Texas, or they're in Camden, New Jersey or South Florida, they're seeing your work and seeing how they can be you in the future.
"'Just as I was able to provide a standard for you, you are for others. You're doing it incredibly well. I'd just encourage you to keep on. The work of service and the work of giving to other people, to people who are disenfranchised, disengaged or underserved or underrepresented, that doesn't stop. I know you know it. I certainly know it.
"'I'm doing my own thing here through medicine and neurosurgery, but any way that we can partner or continue to drive this change forward, that'd be amazing. Best of luck to you. You're doing fantastic work. I'm very proud of you.'"
J.J. Watt and Dr. Myron Rolle would make a formidable team.