Houston Texans' JJ Watt returns to practice on Christmas Eve following injury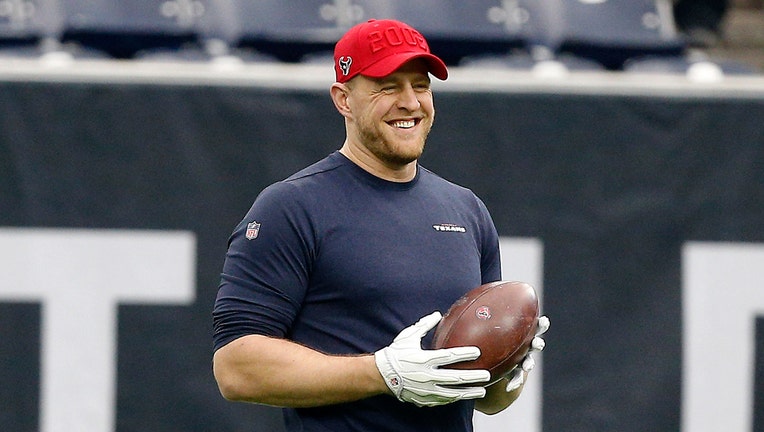 HOUSTON - Houston Texans' J.J. Watt is back at practice on Christmas Eve.
"I feel really good. I worked extremely hard to rehab. We've had a very smooth process," Watt said during a press conference Tuesday.
"I'm really, really excited to get back on the field with everybody."
The defensive end has missed seven games since he suffered a torn pectoral muscle against the Oakland Raiders in late October.
READ MORE: Texans' J.J. Watt suffers injury against Raiders, out for the season
Within days from the injury, Watt underwent shoulder surgery.
He was said to be out for the season, but he may suit up in time for playoffs.
"The medical team here has done a great job. There's obviously an element of risk involved here as well, and I understand," said Watt. "But to me the opportunity to play in the playoffs, the opportunity to try and help this team help win football games it's just there's nothing that I want more."
Once a player goes on Injured Reserve they must miss eight games. Because Watt only missed seven, he can't play against the Tennessee Titans on Sunday.
On Tuesday, the Texans activated his 21-day window. Watt can return at any point during that time after Sunday's game but must be activated by 3 p.m. the day before his first game back.
Watt says the fans are a big part of the reason he wants to get back on the field and play.
"I want nothing more than to win for these people. That's why every single day when you're going through rehab or you're going through difficult times or you're going through tough situations or some days you don't feel like doing it or some days it's very tough, what gets you through is your teammates, your family, and the fans.  And knowing when you do get back on that field you're doing it for people that you care about and that you love. And you're doing it so that you can give them something to be proud of."