Houston Astros to honor late George H.W. Bush, Barbara Bush on Opening Day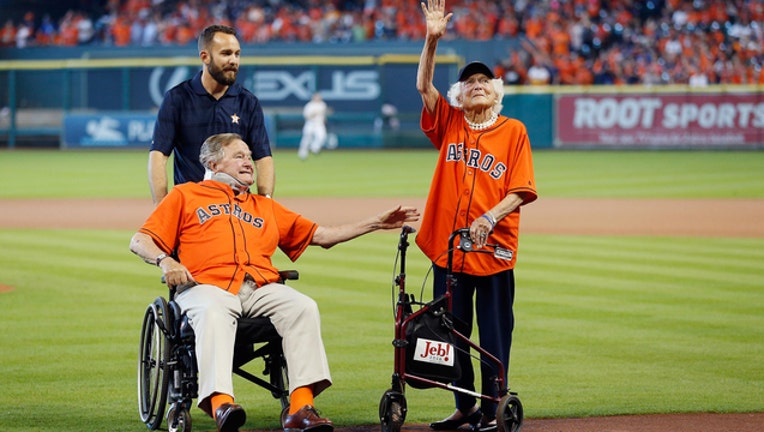 HOUSTON (FOX 7 Austin) - The Houston Astros will pay tribute to longtime fans former President George H.W. Bush and his wife Barbara before their season opener against the Oakland Athletics Friday, April 5 at Minute Maid Park.
As part of their Opening Day pregame ceremonies, the Astros will be celebrating the late president and first lady, honoring them "as some of the greatest Astros fans in franchise history," according to a press release.
Both had been seen many times at Astros home games, with the former president even throwing out the ceremonial first pitch at Game 5 of the 2017 World Series with his son George W. Bush.
According to the release, the U.S. Navy RS Houston All Female Color Guard will be presenting the colors as a tribute to George H.W. Bush's service in the U.S. Navy, and with weather permitting, the 149th Fighter Wing of Texas Air National Guard will conduct a flyover.
Several Bush family members, including son Neil Bush and grandsons Pierce and George P. Bush, are expected to be in attendance. George P. Bush, who currently serves as the Land Commissioner of Texas, will throw out the ceremonial first pitch.
Barbara Bush passed away in April 2018 at age 92 of complications from congestive heart failure and respiratory issues, and her husband died seven months later at 94. Both were laid to rest at the Bush presidential library at Texas A&M University in College Station.
KTBC reported this story from Austin, Texas.