Houston Astros lose Game 1 of 2019 World Series; final score 4-5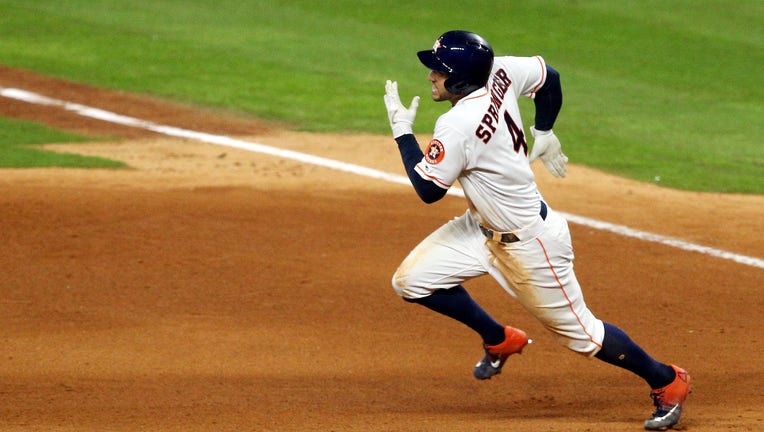 Rundown of 2019 World Series Game 1:
HOUSTON - The Houston Astros lose Game 1 with a close final score of 5-4.
10:54 p.m.
Juan Soto homered onto the train tracks high above the left field wall and hit a two-run double as the Washington Nationals tagged Gerrit Cole and the Houston Astros 5-4 Tuesday night in the World Series opener.
Not even a history-making home run by postseason star George Springer and another drive that nearly tied it in the eighth inning could deter Washington.
Ryan Zimmerman, still full of sock at 35, also homered to back a resourceful Max Scherzer and boost the wild-card Nationals in their first World Series game.
Sean Doolittle pitched a perfect ninth for the save, only the second 1-2-3 inning on a night that Washington relievers were given a three-run lead and just held on.
10:40 p.m.
Washington held on to a 5-4 lead after eight innings in its first-ever World Series game, after getting all its runs in the first five innings against Astros starter Gerrit Cole.
Houston scored in the seventh and eighth innings off the bat of George Springer.
Pinch-hitter Kyle Tucker led off the Astros eighth with a single off Daniel Hudson, then moved up to second when Aledmys Diaz had a towering deep flyout to center field. Springer, their leadoff hitter who hit a solo homer an inning earlier, then got an RBI double on a ball that nicked off the glove of a leaping Adam Eaton right up against the angled wall in right-center.
Jose Altuve then flew out to right field before left-hander Sean Doolittle came on and got Michael Brantley on an inning-ending liner to left field.
Cole hasn't lost since May 22. The right-hander, who went seven innings, came into the game after winning 19 consecutive decisions over his last 25 starts.
10:15 p.m.
George Springer greeted Tanner Rainey with a home run leading off the seventh inning, cutting the Houston Astros' deficit to 5-3 against the Washington Nationals in the World Series opener.
Springer set a record by homering in his fifth straight World Series game, breaking a record he had shared with Lou Gehrig and Reggie Jackson.
Houston loaded the bases when Rainey walked Michael Brantley and Alex Bregman with one out, and Carlos Correa reached on a two-out single to shortstop off Daniel Hudson.
Hudson then struck out rookie Yordan Álvarez with the bases loaded.
9:42 p.m.
Asdrúbal Cabrera singled to start the sixth but was erased when Ryan Zimmerman grounded into a double play. Gerrit Cole then retired Kurt Suzuki for the third out to wrap up a clean inning after giving up four runs combined in the previous two.
Patrick Corbin took over for Max Scherzer in the bottom of the sixth and promptly struck out Carlos Correa before rookie Yordan Alvarez singled to right field. But Corbin struck out Martín Maldonado before pinch-hitter Aledmys Díaz grounded out to end the inning.
Scherzer allowed five hits and two runs with seven strikeouts. He threw 112 pitches, which were his most this postseason.
9:25 p.m.
Gerrit Cole is pitching in a game without the lead for the first time since Sept. 2. The Houston Astros right-hander hasn't lost a game since May 22.
Juan Soto, the 20-year-old for the Nationals already with a big solo homer, added a two-run double off the left field wall in the fifth inning as the Nationals took a 5-2 lead. He got stranded there when shortstop Carlos Correa made a lunging, fully extended catch on Howie Kendrick's liner that was headed toward left field.
Adam Eaton's RBI single earlier in the fifth snapped a 2-2 tie.
Cole entered Game 1 of the World Series having gone 19-0 in his last 25 starts. He was 3-0 with a 0.40 ERA, allowing only one run over 22 2-3 innings through the AL Division Series and AL Championship Series.
The five runs by the Nationals are the most off the right-hander since he gave up six runs over five innings in a 9-4 home loss to the Chicago White Sox on May 22. He had allowed only six homers in his past 11 games before Ryan Zimmerman and Soto both went deep.
Houston won 3-2 at Milwaukee in the last game Cole trailed.
While throwing 54 of 82 pitches for strikes through the first five innings, Cole had allowed seven hits while striking out four and walking one.
Nationals starter Max Scherzer was at 111 pitches through five innings, but he had settled down since allowing the first two Houston batters of the game to reach and score. The Astros have had only one runner get past first base since Yuli Gurriel's two-run double with two outs in the first inning put them ahead 2-0.
Scherzer has seven strikeouts with three walks while allowing five hits.
8:54 p.m.
Juan Soto tied the score 2-2 leading off the fourth when he drove a high fastball on the outside corner to the opposite field and onto the train tracks in left, 417 feet away.
At 20 years, 362 days he became the fourth-youngest player to homer in the Series after Andruw Jones (19-180), Miguel Cabrera (20-187) and Mickey Mantle (20-362). Washington became the first team to have players 20 or younger and 35 or older go deep in the same Series game, STATS said.
Gerrit Cole had not given up multiple home runs in a game since Aug. 7 at home against Colorado. Cole has allowed three runs in the postseason, all on solo homers. Tampa Bay's Eric Sogard went deep in the Division Series.
Houston put two on in the fourth on Yordan Álvarez's leadoff single and George Springer's two-out walk. José Altuve grounded out to first, with Scherzer covering.
Scherzer threw 96 pitches through four innings, going to a full count on eight of his first 20 batters.
Cole threw 57 pitches through four innings, including 40 strikes,
8:25 p.m.
Gerrit Cole allowed one hit in a scoreless third after surrendering a solo home run to Ryan Zimmerman an inning earlier that got the Nationals within 2-1. Adam Eaton singled with two outs in the inning before Cole retired Anthony Rendon to end it.
Cole has thrown 42 pitches through three innings.
The Astros got a single from Michael Brantley with one out in the bottom of the frame and Yuli Gurriel followed with a single on a fly ball to shallow center field. Center fielder Victor Robles tried to grab it with a dive, but the ball bounced off the back of his shoulder as his glove popped off.
Gurriel advanced to second on the play, but he and Brantley were left stranded when Carlos Correa struck out for the second time.
Max Scherzer has thrown 69 pitches.
8:00 p.m.
The first player ever drafted by the Washington Nationals hit the team's first World Series home run.
Ryan Zimmerman, picked by the Nationals in 2005 and the only player to wear their uniform all 15 seasons, hit a 413-foot homer to center off Houston Astros starter Gerrit Cole with two outs in the second inning in Game 1 on Tuesday night.
That got the Nationals within 2-1 through two innings after Houston scored twice against Washington starter Max Scherzer in the first.
Cole gave up a leadoff single to Trea Turner to start the game, and the shortstop then had the first stolen base this offseason for the Nationals. The Astros starter, who has won his last 19 decisions, then struck out the next two while retiring five in a row before Zimmerman went deep.
Astros shortstop Carlos Correa, who couldn't make the backhanded stop on Turner's grounder to start the game, had nice plays to retire Howie Kendrick leading off the second and then throwing out Kurt Suzuki to end the inning.
Scherzer walked struggling Astros rookie Yordan Alvarez to start the second. Martin Maldonado and Josh Reddick, the bottom two hitters in the Houston lineup, then hit short routine flyballs before George Springer struck out on a full-count pitch.
7:40 p.m.
Ryan Zimmerman went deep in his first World Series at-bat.
Zimmerman, the first player drafted by the Washington Nationals in 2005, hit a two-out solo homer in the second inning off Houston starter Gerrit Cole.
The blast to center, measured by MLB stats at about 413 feet, got the Nationals within 2-1.
7:35 p.m.
Houston's Gerrit Cole (326) and Washington's Max Scherzer (243) combined for the most strikeouts ever by starting pitchers in a World Series game.
After a pregame tribute to umpire Eric Cooper, who died last weekend, the game started with the roof closed at Minute Maid Park, and Yuli Gurriel put the Astros ahead with a two-run double in the first against Scherzer.
Trea Turner led off against Cole with a grounder to the shortstop hole that went off the outstretched glove of Carlos Correa. Turner reached on the infield hit, then stole second on the first pitch to Adam Eaton. That was the first steal attempt in the postseason for the Nationals, who led the NL with 116 during the regular season.
Eaton popped out a bunt attempt and Cole struck out Anthony Rendon and Juan Soto on three pitches each, Rendon on a 98 mph fastball and Soto on a 99 mph heater.
George Springer reached on a seven-pitch walk leading off the bottom half and José Altuve singled to left on the next pitch, Michael Brantley struck out on three pitches, Springer sprinted to third on a wild pitch in the dirt and Altuve stole second as Alex Bregman struck out.
Gurriel, who hit a three-run homer off the Yankees' Chad Green in the first inning of Saturday's ALCS Game 6, fell behind 1-2, then drove a high 96 mph fastball high off the left-field wall, 382 feet away. Batters had been 0 for 17 against Scherzer with runners in scoring position during the postseason before the hit.
Scherzer then struck out Correa on his 26th pitch of the inning.
The Associated Press contributed to this report.