Grand slam, 5 RBIs by Rasmus helps Astros over Red Sox 8-3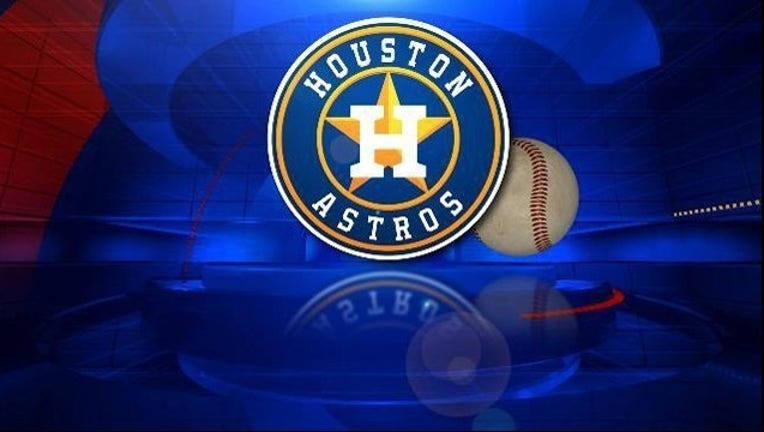 article
HOUSTON (AP) — During their four-game losing skid, the Houston Astros were incapable of getting timely hits.
That changed on Saturday.
Colby Rasmus hit a tie-breaking grand slam in the fifth inning to lead the Astros to an 8-3 win over the Boston Red Sox that ended the losing streak.
He drove in a fifth run with a double in Houston's three-run eighth for his most RBIs since he had six on June 2, 2011.
The game was tied a 1-1 and Clay Buchholz (0-2) had retired eight straight before walking Luis Valbuena with no outs in the fifth. George Springer singled with two outs before Buchholz plunked Carlos Correa to load the bases.
Rasmus then launched a 93 mph fastball with two strikes to the seats in right-center field for his fifth career grand slam and Houston's second this season to make it 5-1.
"There was a little bit of an exhale getting a big hit with runners in scoring position to change the score against a good pitcher and somebody that Colby hasn't hit in the past," manager A.J. Hinch said.
Rasmus was glad to be able to come through at such a big moment.
"We've had a tough stretch, so to be able to do something for the team I feel blessed and thankful that that gave us a spark," he said. "We had some good energy, got the crowd going with us and everybody was having a good time."
Buchholz lamented not being able to locate that pitch were he wanted it.
"It's a really good pitch whenever you're able to throw it where you want to, but the ball was moving a lot today," he said. "For the most part felt like I did a pretty good job with executing the pitches I was throwing at times. Me and Colby faced each other a lot, he got me today."
Mike Fiers (2-1) allowed five hits and two runs with six strikeouts in 5 1/3 innings for his second win in a row.
Buchholz yielded six hits and five runs while striking out six in 5 2/3 innings to remain winless in four starts this season. It's his first career loss to the Astros in five starts, which included two complete games. He entered with a 1.38 ERA with 39 strikeouts against Houston.
Mookie Betts hit a leadoff single and advanced to second on an error by Fiers on a pickoff attempt. Dustin Pedroia walked before the RBI single by David Ortiz made it 1-0.
Houston evened it up in the second inning when Marwin Gonzalez scored on a groundout by Jason Castro.
Fiers settled down after the single by Ortiz and retired 15 of the next 16 batters before a double by Pedroia to start the sixth inning.
A single by Travis Shaw with one out in the inning loaded the bases and chased Fiers.
TRAINER'S ROOM
Red Sox: Xander Bogaerts was out of the lineup Saturday after being hit on the right wrist by a pitch from Luke Gregerson in the ninth inning on Friday night. The Red Sox don't think the injury is serious, and he could return on Sunday.
COLLECTING HARDWARE
Dallas Keuchel was presented with his second straight Gold Glove award and Jose Altuve collected his Gold Glove and Silver Slugger awards before Saturday's game. Keuchel also picked up trophies for being named Houston's MVP and pitcher of the year from the local Baseball Writers' Association of America chapter. Also honored by that chapter was Carlos Correa, who was the rookie of the year.
CURRY AND CORREA
Golden State Warriors star Stephen Curry raved about Correa a day after spending time with him before attending Friday night's game.
"He's a young talent that is going to be around for a long time," Curry said. "He is a really humble guy who has a great attitude (and) is passionate about what he does. He enjoys the opportunity he has playing in the majors, so I got to see behind the scenes of how he gets ready for games."
Last year's MVP is in town for a first-round playoff series against the Houston Rockets. Game 4 is Sunday.
UP NEXT
Red Sox: Left-hander Henry Owens will make his 2016 major league debut in the series finale on Sunday. Owens went 1-1 with a 1.00 ERA in three starts for Triple-A Pawtucket this season before being called up.
Astros: Scott Feldman (0-2, 4.11) will look for his first win when he starts on Sunday. Feldman allowed four runs — three earned — in five innings of a 7-5 loss to Texas on Tuesday.